RELEASE DATE: 10/22/08
FOR IMMEDIATE RELEASE: Mounties throw scare into #1 Bloomsburg in field hockey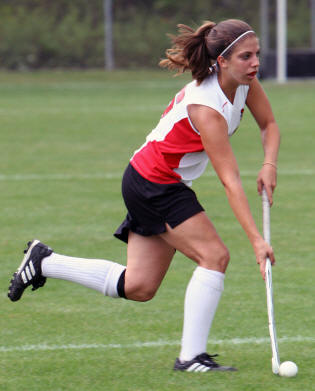 MANSFIELD – Seniors Laura Carden and Rebekah Brown each scored goals and Mansfield threw a scare into #1 ranked Bloomsburg in a 3-2 PSAC field hockey loss Wednesday afternoon at Spaulding Field.
Bloomsburg, ranked #1in the nation in the latest STX/NFHCA weekly NCAA Division II National Field Hockey poll, got on the board first on a goal by Chelsea Due off an assist by Samatha Kropa four minutes into the game.
Mansfield tied the game five minutes before the end of the first half on Carden's 13th goal of the season.
Bloomsburg got goals from Magey Bloskey and Jamie Vanartsdalen midway through the second half but Mansfield closed the gap to 3-2 on a goal by Brown with just over two minutes to play, but could pull no closer.
Brianna DeLuca had six saves on the day while Allison Ziants of Bloomsburg recorded nine.
The Mountaineers be in action again on October 25 when they host Indiana University of Pennsylvania. Saturdays' game is the final farewell to seniors Carden, Brown, DeLuca, Shana Markwis and Shantee Proctor. Also being recognized is junior Kelly Klimkowski who will be studying at the Sayre campus to finish her nursing degree.

Field Hockey Game Summary (Final)
Bloomsburg Univ. vs MANS (Oct 22, 2008 at Mansfield University)

Bloomsburg Univ. (18-1-0, 8-0-0) vs. MANS (7-11-0, 3-4-0)
Date: Oct 22, 2008 Attendance: 65
Weather: cloudy, cold and overcast

Goals by period 1 2 Tot
-------------------------------
Bloomsburg Univ..... 1 2 - 3
Mansfield Univ...... 1 1 - 2

SCORING SUMMARY:
1. 4:21 BLOOM Chelsea Due (10) (Samantha Kropa) - edge of the circle off a corner
2. 30:17 MANS Laura Carden (unassisted)
3. 49:40 BLOOM Maggey Bloskey (16) (Jamie Vanartsdalen) - tip into bottom right corner
4. 55:23 BLOOM Jamie Vanartsdalen (30) (unassisted) - unassisted bounced between pads and in
5. 67:53 MANS Rebekah Brown (2) (unassisted) - rolled off defenders stick

Shots: Bloomsburg Univ. 22, MANS 16
Saves: Bloomsburg Univ. 9 (Allison Ziants 9), MANS 6 (Brianna DeLuca 6)