Release Date: 10/20/07
For Immediate Release: Breanne Tobin and Ryanne Higgins scored two goals each in a 5-0 win in regular season finale over Slippery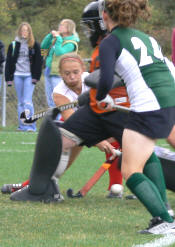 Mansfield- Senior Ryanne Higgins(Newtown/Council Rock) and sophomore Breanne Tobin( Perkasie/Pennridge) each scored two goals to lead Mansfield to a 5-0 win over Slippery Rock in a PSAC contest Saturday afternoon at Spaulding field.
Mansfield honored seniors Christi Carter( Apalachin,NY/Owego), Ryanne Higgins, Shana Markwis(Milford/Delaware Valley), Keely Jarrett(Pennsburg/Upper Perkiomen) and Liz Humphreys in pre-game ceremonies.
It was a bittersweet day for Mansfield, even though they improved to 7-7 in the conference and 11-7 overall, it was bittersweet when Shippensburg beat #1 IUP to earn the final PSAC playoff berth. Although Mansfield and Shippensburg ended the season with the same conference record, Shippensburg gets the berth because they beat #1 IUP and #2 Kutztown in the final two games of the season.
The win ties the school record for wins in a season that was set last year with seven, and the 11 total wins is the second most wins in school history.
Senior Keely Jarrett started the scoring for the Mountaineers on senior day in the 8th minute, scoring off an assist from Brittany Kostishon(Perkasie/Pennridge).
Jarrett's goal gives her 41 for her career which is fourth in Mountaineer history and gives her 101 points for her career making her only the third player in Mountaineer history to surpass the 100 point plateau.
Senior Ryanne Higgins scored three minutes later on a pop shot that went over the Slippery Rock's goalies head for a 2-0 lead. Jarrett had the assist on the goal.
Sophomore Breannne Tobin scored four minutes later for her 14th goal of the season. Kelly Klimkowski(Lebanon/Cedar Crest) hit a long shot from the side that was deflected by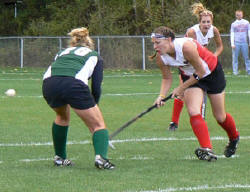 Higgins to the stick of Tobin who knocked it home for the 3-0 Mansfield lead.
Tobin added her second goal of the game in the 24th minute of the game off another assist from Higgins to give Mansfield a 4-0 halftime lead.
Higgins added her second goal of the game in the 42nd minute beating the Slippery Rock goalie from the right corner off a pass from Kayla Carter.
It was Higgins 42nd goal of her career putting her second in school history behind Gretchen Reschke and Kristi Swartz who both have 43. With her two assists, Higgins becomes second in career assists with 28 behind Reschke who has 30. Higgins 112 points puts her second behind Reschke who has 116.
Junior goalie Brianna DeLuca(West Grove/Avon Grove) made four saves for her eighth career shutout to put her tied for second in career shutouts with Heather Long.

Field Hockey Game Summary (Final)
Slippery Rock vs #8 Mansfield (Oct 20, 2007 at Mansfield, PA)
Slippery Rock (1-17, 1-13) vs. Mansfield (11-7, 7-7)
Date: Oct 20, 2007 Attendance: 189
Goals by period 1 2 Tot
-------------------------------
Slippery Rock....... 0 0 - 0
Mansfield........... 4 1 - 5

SCORING SUMMARY:
1. 8:22 MANS Keely Jarrett (9) (Brittany Kostishon) - pass to left corner
2. 11:26 MANS Ryanne Higgins (11) (Keely Jarrett) - penalty corner, high shot
3. 15:46 MANS Breanne Tobin (14) (Ryanne Higgins) - tiped pass from 11 goal in corner
4. 24:11 MANS Breanne Tobin (15) (Ryanne Higgins) - tipped pass to 7 left corner of goal
5. 42:53 MANS Ryanne Higgins (12) (Kayla Carter) - Shot from right corner

Shots: Slippery Rock 8, Mansfield 17
Saves: Slippery Rock 6 (Ashley Winkelspecht 4; Olivia Lampenfeld 1;
Lisa Belcastro 1), Mansfield 4 (Brianna DeLuca 4)