RELEASE DATE: 9/25/07
FOR IMMEDIATE RELEASE: Higgins records hat-trick in 4-1 win over Slippery Rock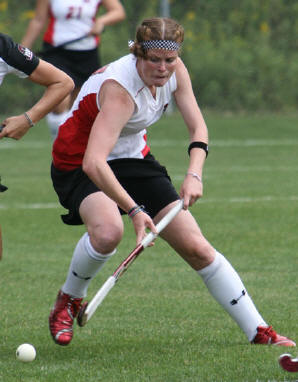 SLIPPERY ROCK – Ryanne Higgins (Newtown/Council Rock) scored three goals and Kayla Carter (Danville/Danville) added another to lead #10 ranked Mansfield to a 4-1 win at Slippery Rock in a PSAC field hockey contest Tuesday afternoon.
Higgins, who recorded her third career hat-trick, scored her first goal in the 15th minute off a pass from Kelly Klimkowski (Lebanon/Cedar Crest).
She added her second goal three minutes before halftime this one on an assist from Rebekah Brown (Equinunk,NY/Hancock Central) to give Mansfield a 2-0 lead with Carter scoring her first goal of the season with just four second remaining in the first half to give Mansfield a 3-0 advantage at intermission.
Higgins got her third score of the afternoon on an unassisted goal midway through the second half with Slippery Rock's Ashley Stoner scoring the game's final goal off an penalty stoke with just eleven seconds remaining in the game.
Mansfield held a 22-8 shot advantage.
Hayley Tuckey (Courtright,ONT/SCITS) just missed a shutout and recorded six saves in goal in her first collegiate start. Lisa Belcastro had 13 saves for Slippery Rock.
It was the first game in the last six games that wasn't against a Top Ten nationally ranked team and snaps a three game losing skid for the Mountaineers.
Mansfield improves to 6-4 overall and 3-4 in PSAC play. The Mountaineers host Millersville this Saturday at noon.
Field Hockey Game Summary (Final)
Mansfield (6-4, 3-4 PSAC) vs. Slippery Rock (0-10, 0-6 PSAC)
Date: Sep 25, 2007 Attendance: 25
Weather: sunny, hot, humid
Goals by period 1 2 Tot
-------------------------------
Mansfield........... 3 1 - 4
Slippery Rock....... 0 1 - 1
SCORING SUMMARY:
1. 14:47 MANS Ryanne Higgins (Kelly Klimkowski)
2. 32:04 MANS Ryanne Higgins (Rebekah Brown)
3. 34:56 MANS Kayla Carter (unassisted)
4. 51:54 MANS Ryanne Higgins (unassisted)
5. 69:49 ROCK Ashley Stoner Penalty stroke
Shots: Mansfield 22, Slippery Rock 8
Saves: Mansfield 6 (Hayley Tuckey 6), Slippery Rock 14 (Lisa Belcastro
13; TEAM 1)