RELEASE DATE: 10/9/07
FOR IMMEDIATE RELEASE: Tobin scores twice and DeLuca pitches shutout to lead Mansfield to 2-0 win over Shippensburg in key PSAC field hockey game Tuesday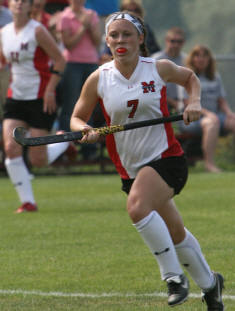 MANSFIELD – Mansfield combined rain, lighting, darkness and most importantly determination and skill into the perfect storm to beat Shippensburg 2-0 in a key PSAC field hockey game Tuesday afternoon and evening at Spaulding Field Tuesday.
Not rain, nor lighting, nor even the night could stop the Mansfield University field hockey team as sophomore Breanne Tobin (Perkasie/Pennridge) scored both goals and junior goalie Brianna DeLuca (West Grove/Avon Grove) recorded her first shutout of the season.
In a game that was delay by 50 minutes at the start by rain and lighting and then another 30 minutes because of lighting in the second half before ending in darkness, the Mountaineers simply won't be denied in inching closer to a PSAC playoff berth.
"Our players just believed they were going to win no matter what obstacle was placed before them," said head coach Diane Monkiewicz. "Wins this important come for a total team effort and that's what we got today. Ryanne (Higgins) and Keely (Jarrett) didn't score but they made a lot of things happen for us out there. Brit (Kostishon), Shana (Markwis), Kelly (Klimkowski) controlled things and the defense (Courtney Grunza, Jenna Shaub, Shantee Proctor) came up with key stops during the game."
The early weather disruption may have enhanced an already playoff atmosphere as both teams play sharply and had scoring opportunities in the first half.
Mansfield controlled play early but couldn't get the ball past Shippensburg goalie Amanda Houser who came out of the net on a number of occasions to record key first half saves.
With the scored tied 0-0 at halftime, the teams managed to get in just under two minutes of play into the second half before the game was once again halted for 30 minutes because of lighting.
When the game final resumed, Mansfield drew first blood when Tobin took a pass in the middle from midfielder Kelly Klimkowski (Lebanon/Cedar Crest) and put it past the goal in the 52nd minute.
Tobin would strike a little lighting of her own less then two minutes later when she followed up on a shot by teammate Carlyn Spangler (Valley Center, CA/Valley Center). Tobin dove and put a stick on the ball as it and herself slid past the goalie.
DeLuca, who recorded a school record six shutouts last season, preserved the shutout and killed any hope of a Shippensburg rally when she came across her body with her blocker to knock away Shippensburg's Megan Keener's penalty stroke with just under five minutes to play.
It was a huge win for the #9 Mountaineers who now hold a two game lead over Shippensburg for the final PSAC playoff spot with three conference games remaining.
Mansfield travels to Bloomsburg on Saturday.
Field Hockey Game Summary (Final)
#10 Shippensburg vs #9 Mansfield (Oct 09, 2007 at Mansfield, PA)
Shippensburg (9-7, 4-7) vs. Mansfield (9-5, 6-5)
Date: Oct 09, 2007 Attendance: 151
Goals by period 1 2 Tot
-------------------------------
Shippensburg........ 0 0 - 0
Mansfield........... 0 2 - 2
SCORING SUMMARY:
1. 51:10 MANS Breanne Tobin (Kelly Klimkowski) - pass from side to middle
2. 52:37 MANS Breanne Tobin (unassisted) - off rebound
Shots: Shippensburg 14, Mansfield 17
Saves: Shippensburg 9 (Amanda Houser 9), Mansfield 10 (Brianna DeLuca
10)