RELEASE DATE: 9/15/07
FOR IMMEDIATE RELEASE: Mansfield Field Hockey Falls at Shippensburg -- Mounties suffer 4-1 setback in battle of nationally ranked programs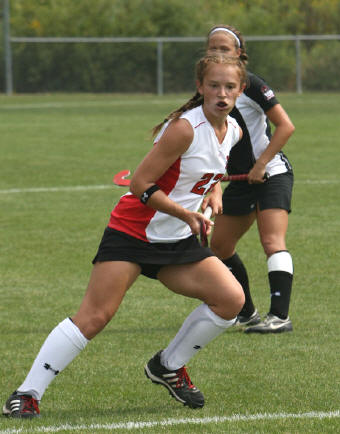 SHIPPENSBURG – Keely Jarrett scored early in the second half but Shippensburg answered with two second period goals of its own to beat Mansfield 4-1 in a PSAC field hockey contest Saturday afternoon.
Shippensburg, ranked #9 in the latest NCAA Division II poll scored first on a goal by Daniella Hass 11 minutes into the game. The Red Raiders increased their lead to 2-0 on a shot by Laura Wylde five minutes before the end of the second half to take a 2-0 lead at halftime.
Jarrett scored her fifth goal of the season four minutes into the second half to cut the advantage to 2-1 but Shippensburg came right back thirty seconds later on a goal by Kim Davis. Mariah Wooters added the game's final goal off a penalty corner in the 62nd minute.
Shippensburg (5-2, 2-2) held a 26-5 shot advantage along with a remarkable 22-4 advantage in penalty corners.
Mansfield (5-2, 2-2) goalie Brianna DeLuca had 10 saves on the day while Shippensburg's Allie Rutalnd was credited with 2 saves.
Mansfield host #1 ranked Bloomsburg on Wednesday.
Field Hockey Game Summary (Final)
#8 Mansfield vs #9 Shippensburg (Sep 15, 2007 at Shippensburg, Pa.)
Mansfield (5-2, 2-2 PSAC) vs. Shippensburg (5-2, 2-2 PSAC)
Date: Sep 15, 2007 Attendance: 102
Weather: Low 60s, sunny and breezy
Goals by period 1 2 Tot
-------------------------------
Mansfield........... 0 1 - 1
Shippensburg........ 2 2 - 4
SCORING SUMMARY:
1. 11:02 SHIP Danielle Haas (4) (Jamie Doughty)
2. 30:38 SHIP Laura Wylde (3) (Mariah Wooters)
3. 38:53 MANS Keely Jarrett (unassisted)
4. 39:23 SHIP Kim Davies (8) (Jamie Doughty)
5. 62:33 SHIP Mariah Wooters (1) (Megan Keener) - Penalty corner
Shots: Mansfield 5, Shippensburg 26
Saves: Mansfield 10 (Brianna DeLuca 10), Shippensburg 2 (Allie Rutland
2)