RELEASE DATE: 9/29/07
FOR IMMEDIATE RELEASE: Tobin, Jarrett, Higgins and Spangler all score goals as #10 Mansfield beats Millersville 5-1 in PSAC Field Hockey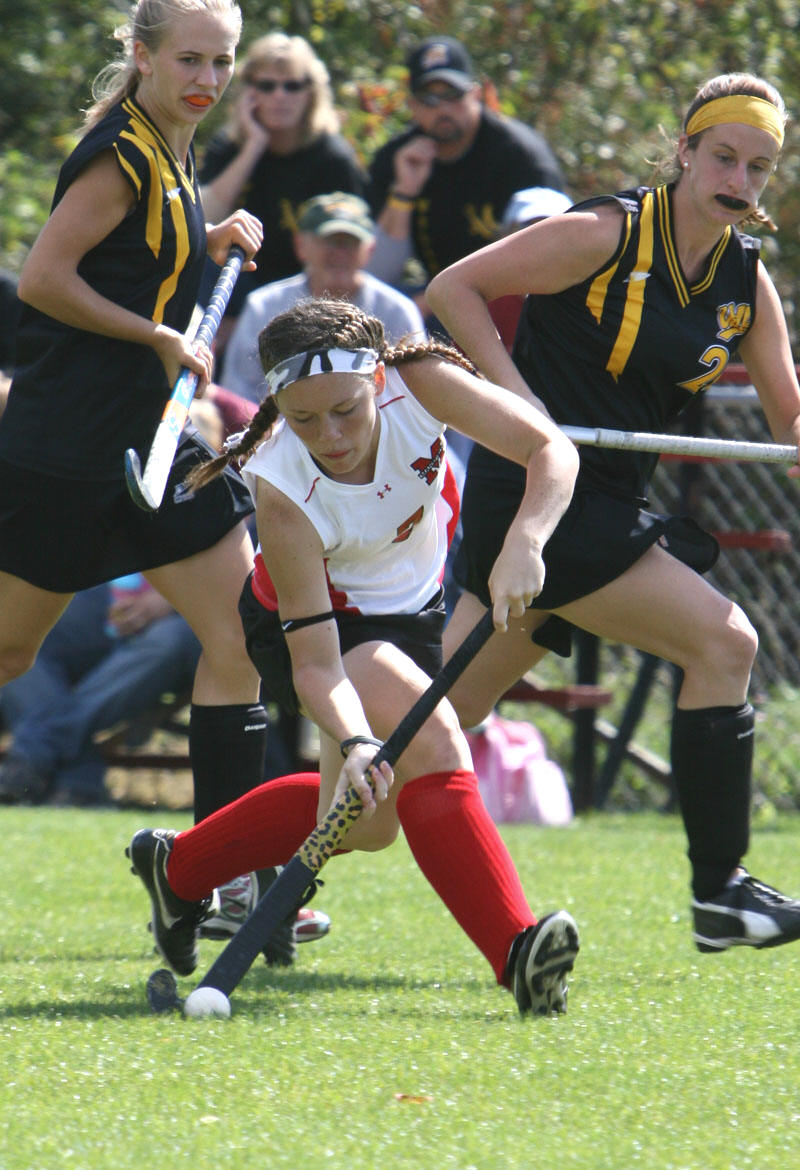 MANSFIELD – Breanne Tobin (Perkasie/Pennridge) scored two goals and added an assist while Keely Jarrett (Pennsburg/Upper Perkiomen), Carlyn Spangler (Valley Center, CA/Valley Center), and Ryanne Higgins (Newtown/Council Rock) each added a goal to lead #10 Mansfield to a 5-1 win over Millersville in a PSAC game Saturday afternoon at Spaulding Field.
The five goals tie for the most scored in a game this season for the Mountaineers.
Jarrett opened the scoring in the 19th minute rifling a shot into the net after a pass from Tobin. With just over a minute remaining the first half, Tobin scored her first goal of the afternoon off a corner assist from Shana Markwis (Milford/Delaware Valley) to give Mansfield a 2-0 lead at halftime.
Spangler picked up her fourth goal three minutes into the second half taking the goalie rebound off her own shot and putting it back into the net.
Thirty-five seconds later, Tobin got her second goal of the day when she took a centering pass from Spangler and put it past the goalie's pads.
Mansfield took a 5-0 lead in the 57th minute when Higgins scored off a corner.
Millersville avoid the shutout when Jaclyn Kulesza scored late in the game off an assist from Emily Hopkins.
Brianna DeLuca (Wet Grove/Avon Grove) had eight saves for Mansfield while Jessica Heckman was credited with 12 saves for Millersville.
Mansfield improves to 7-4 overall and 4-4 in the PSAC. The Mountaineers travel to IUP on Wednesday.
Field Hockey Game Summary (Final)
Millersville vs Mansfield (Sep 29, 2007 at Unknown)
Millersville (4-8,2-6) vs. Mansfield (7-4,4-4)
Date: Sep 29, 2007 Attendance: 98
Weather:
Goals by period 1 2 Tot
-------------------------------
Millersville........ 0 1 - 1
Mansfield........... 2 3 - 5
SCORING SUMMARY:
1. 18:51 MANS Keely Jarrett (Breanne Tobin)
2. 33:56 MANS Breanne Tobin (Shana Markwis)
3. 37:33 MANS Carlyn Spangler (unassisted)
4. 38:57 MANS Breanne Tobin (Carlyn Spangler)
5. 42:29 MANS Ryanne Higgins (Keely Jarrett;Shana Markwis)
6. 56:18 MILL Jaclyn Kulesza (Emily Hopkins) -
Shots: Millersville 9, Mansfield 23
Saves: Millersville 13 (Kristen Holden 1; Jessica Heckman 12),
Mansfield 6 (Brianna DeLuca 6)