RELEASE DATE: 9/5/07
FOR IMMEDIATE RELEASE: Mansfield field hockey improves to 4-0 with 4-2 win over Millersville -- #7 ranked Mountaineer off to best start in school history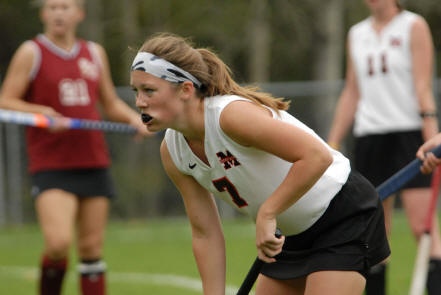 MILLERSVILLE – Breanne Tobin (Perkasie/Pennridge) scored two goals and Carlyn Spangler (Valley Center,CA/Valley Center) and Keely Jarrett (Pennsburg/Upper Perkiomen) added one each to lead #7 ranked Mansfield to a 4-2 win over Millersville in a PSAC field hockey contest Wednesday afternoon.
Millersville took an early lead on a goal by Kristie Testa in the first four minutes of the game before Mansfield rallied to score the games next four goals.
Spangler put the ball in the net off an assist from Ryanne Higgins (Newtown/Council Rock) at the 15:30 mark.
Eight minutes later, Jarrett scored on a assist from Shana Markwis (Milford/Delaware Valley) to give Mansfield a 2-1 lead at halftime.
Jarrett scored her first goal of the game a little over a minute into the second half and added another in the 58th minute. Both goals were unassisted.
Millersville scored the game's final goal on a shot from Jaclyn Kutesza off a corner.
Millersville held a 18-10 shot advantage with Mansfield's Brianna DeLuca (West Grove/Avon Grove) credited with 12 saves. Jessica Heckman had three saves for Millersville.
It marked the first time in school history Mansfield has started a season off with four straight wins.
The Mountaineers will face #4 ranked IUP this Saturday at Spaulding Field starting at noon.
Field Hockey Game Summary (Final)
Mansfield vs MILL (Sep 05, 2007 at Unknown)
Mansfield (4-0 (1-0 PSAC)) vs. MILL (0-2 (0-1 PSAC))
Date: Sep 05, 2007 Attendance: 60
Goals by period 1 2 Tot
-------------------------------
Mansfield........... 2 2 - 4
MILL................ 1 1 - 2
SCORING SUMMARY:
1. 3:39 MILL Kristie Testa (Jaclyn Kulesza)
2. 15:30 MANS Carlyn Spangler (Ryanne Higgins)
3. 23:13 MANS Keely Jarrett (Shana Markwis)
4. 36:48 MANS Breanne Tobin (unassisted)
5. 58:26 MANS Breanne Tobin (unassisted)
6. 62:07 MILL Jaclyn Kulesza (Melissa Barto;Lynn DeAngelis)
Shots: Mansfield 10, MILL 18
Saves: Mansfield 12 (Brianna DeLuca 12), MILL 3 (Jessica Heckman 3)