RELEASE DATE: 8/25/07
FOR IMMEDIATE RELEASE: Tobin lifts Mansfield to 2-1 overtime win at Mercyhurst – Sophomore scores both goals including game winner with time expired at end of overtime -- First time since 1999 Mounties open season at 2-0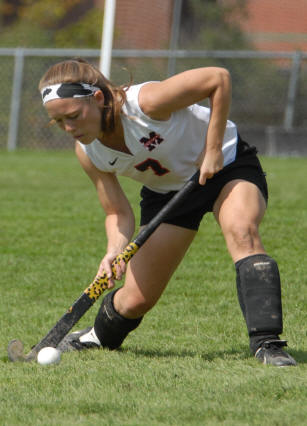 ERIE – Breanne Tobin scored off a corner as time expired in overtime to lift Mansfield to a 2-1 win over Mercyhurst in Erie Saturday afternoon.
"That was a determined effort," said head coach Diane Monkiewicz. "To play that well after playing in Columbus the day before showed a lot of character. That's a great sign to see a team identity develop this early in the season."
Mansfield opened the scoring late in the first half when Tobin hit the back of the net off an assist by Ryanne Higgins 29 minutes into the game.
Three minutes later, Mercyhurst would tie the score when Brittany Jefford scored off an assist from Sara Wowkowych.
After a scoreless second half the team teams went another 10 minutes in overtime before Mansfield was awarded a penalty corner with :02 remaining.
Tobin scored the winning goal on an assist from Brittany Kostishon with no time remaining on the clock as the Mountaineers won their first two games of the season for the first time since 1999.
Brianna DeLuca had seven saves for Mansfield while Jennifer Coleman recorded 10 saves for Mercyhurst.
Mansfield held a 22-12 shot advantage and 12-4 advantage in penalty corners.
Mansfield 2 Mercyhurst 1 OT
Scorers
Mansfield Breanne Tobin (Ryanne Higgins) 29:24
Mercyhurst Brittany Jeffords (Sara Wowkowch) 32:49
Mansfield Breanne Tobin (Brittany Kostishon) 85:00
Shots: Mansfield 22, Mercyhurst 12
Corners: Mansfield 12, Mercyhurst 4
Saves: Mansfield 7 (Brianna DeLuca), Mercyhurst 10 (Jennifer Coleman)