RELEASE DATE: 10/16/07
FOR IMMEDIATE RELEASE: Field Hockey falls to #3 Kutztown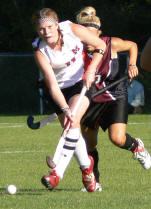 Mansfield- Ryanne Higgins(Newtown/Council Rock) scored for #8 Mansfield but it wasn't enough as #3 Kutztown beat Mansfield 4-1 Wednesday afternoon in a key PSAC game at Spaulding field.
Neither team was able to score until Kutztown's Carrie Healey scored with less than two minutes remaining in the first half to give Kutztown the 1-0 lead at intermission.
Kutztown built on its lead, scoring three goals in a span of six minutes in the second half to take control of the game.
Higgins scored her ninth goal of the season and 39th of her career in the 64th minute on an assist from Keely Jarrett(Pennsburg/Upper Perkiomen).
Kutztown goalie Sam Flowers made six saves while Mansfield goalie Brianna DeLuca(West Grove/Avon Grove) had 13 saves.
The Mountaineers loss combined with Shippensburg's come from behind 6-2 win over Bloomsburg places Shippensburg and Mansfield in a tie for the fourth and final PSAC playoff spot. Shippensburg is 11-7 overall and 6-7 in the PSAC while Mansfield is 9-7 overall and 6-7 in the conference.
Shippensburg hosts #1 ranked IUP on Saturday while Mansfield wraps up its regular season with Slippery Rock.
Mansfield needs a win over Slippery Rock and a Shippensburg loss to earn the final spot in the PSAC playoffs.
Mansfield hosts Houghton College tomorrow in a non-conference game at 4p.m at Spaulding field.

Field Hockey Game Summary (Final)
Kutztown vs Mansfield (Oct 17, 2007 at Mansfield University)
Kutztown (17-2 (11-2)) vs. Mansfield (9-7 (6-7))
Date: Oct 17, 2007 Attendance: 63

Goals by period 1 2 Tot
-------------------------------
Kutztown............ 1 3 - 4
Mansfield........... 0 1 - 1

SCORING SUMMARY:
1. 33:30 KUTZ Carrie Healey (8) (Kelley Healey) - center net off long assist
2. 37:57 KUTZ Whitney Stum Penalty corner - top of circle
3. 40:23 KUTZ Lyndsay Butler (Kelley Healey) - pass from center
4. 43:10 KUTZ Kelley Healey (Carrie Healey) - Penalty corner
5. 63:35 MANS Ryanne Higgins (9) (Keely Jarrett)

Shots: Kutztown 22, Mansfield 11
Saves: Kutztown 6 (Sam Flowers 6), Mansfield 13 (Brianna DeLuca 13)