RELEASE DATE: 9/22/07
FOR IMMEDIATE RELEASE: Field Hockey drops 4-2 decision to undefeated and #2 ranked Kutztown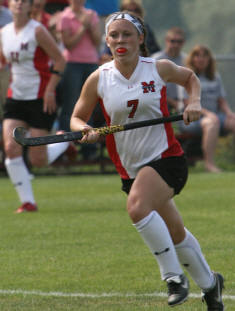 KUTZTOWN – Breanne Tobin and Ryanne Higgins each scored goals but it wouldn't be enough as #8 ranked Mansfield dropped a 4-2 decision at undefeated and #2 ranked Kutztown Saturday evening.
Kutztown held a 2-0 lead at halftime on goals from Anne Waapu and Carrie Healey.
Mansfield cut the lead to 2-1 on Tobin's seventh goal of the season off an assist from Shana Markwis in the 44th minute.
Kutztown scored again 11 minutes later on a shot by Heather Hoxter but Mansfield cut the margin to one goal less than two minutes later when Higgins recorded her fourth goal of the season with Carlyn Spangler providing the assist.
The two goals were the most Kutztown has given up in ten games this season.
Brianna DeLuca had 11 saves for Mansfield while Sam Flowere recorded six for Kutztown.
Kutztown held a 26-10 shot advantage.
Mansfield (5-4, 2-4) travels to Slippery Rock on Tuesday.
Field Hockey Game Summary (Final)
#8 Mansfield vs #2 Kutztown (Sep 22, 2007 at Kutztown, Pa.)
Mansfield (5-4, 2-4) vs. Kutztown (10-0, 5-0)
Date: Sep 22, 2007 Attendance: 172
Weather:
Goals by period 1 2 Tot
-------------------------------
Mansfield........... 0 2 - 2
Kutztown............ 2 2 - 4
SCORING SUMMARY:
1. 9:04 KUTZ Anne Waapu (5) (unassisted)
2. 11:45 KUTZ Carrie Healey (5) (Kelley Healey)
3. 44:21 MANS Breanne Tobin (7) (Shana Markwis)
4. 55:26 KUTZ Heather Hoxter (1) (Lyndsay Butler)
5. 57:15 MANS Ryanne Higgins (4) (Carlyn Spangler)
6. 66:33 KUTZ Kelley Healey (11) (unassisted)
Shots: Mansfield 10, Kutztown 26
Saves: Mansfield 11 (Brianna DeLuca 11), Kutztown 6 (Sam Flowers 6)