IUP scores game's only goal in last minutes to pull out 1-0 win over Mansfield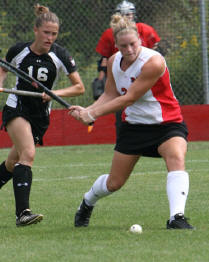 MANSFIELD -- Liz Martini scored the game's only goal with less than two minutes to play to lift #4 ranked IUP to a 1-0 win over #7 Mansfield in a PSAC field hockey contest at Spaulding field Saturday afternoon.
The game lived up to expectation with both teams playing with intensity and before a large and boisterous crowd on a hot and muggy afternoon.
Each team had opportunities in the first half including a penalty shot by IUP's Martini that went wide left.
Mansfield's best chance in the first half came midway through the period when Keely Jarrett lofted ball to Breanne Tobin in front of the goal that just missed.
The Mountaineers had scoring opportunity in the first minutes of the second half when Ryanne Higgins center a long pass that was just outside the reach of Carlyn Spangler in front of the net.
Mansfield's best chance to pull off the win came in the last five minutes when they worked three straight corners. The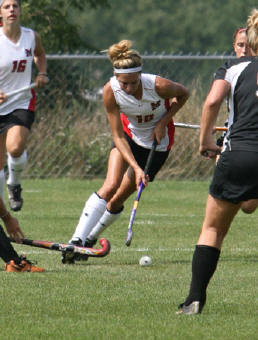 Mountaineers put two shots on goal but couldn't get the ball in the net.
Martini scored minutes later on a hard hit shot just inside the circle that went into the goal after deflecting off a Mansfield player.
Mansfield had one final chance in the last 30 seconds getting the ball inside the circle but couldn't get a shot off.
IUP held a 10-8 shot advantage and 9-8 advantage on corners.
Brianna DeLuca had seven saves in goal with IUP's Lydia Dolly was credited with four saves.
Mansfield suffered its first loss of the season to fall to 4-1.
The Mountaineers host East Stroudsburg on Tuesday.
Field Hockey Game Summary (Final)
#4 IUP vs #7 Mansfield (Sep 08, 2007 at Mansfield, PA)
IUP (3-1) vs. Mansfield (4-1)
Date: Sep 08, 2007 Attendance: 305
Weather: humid, mid-80
Goals by period 1 2 Tot
-------------------------------
IUP................. 0 1 - 1
Mansfield........... 0 0 - 0
SCORING SUMMARY:
1. 68:36 IUP Liz Martini (Brittany Owens) - off a corner at the top of the circle,de
Shots: IUP 10, Mansfield 8
Saves: IUP 4 (Lydia Dolly 4), Mansfield 7 (Brianna DeLuca 7)