Release Date:10/18/07
For Immediate Release: Spangler scores game-winner in overtime to lead Mansfield to 3-2 win over Houghton -- Seniors Higgins and Jarrett each score 40th career goal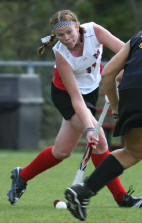 Mansfield- Sophomore Carlyn Spangler scored off a centering pass from senior Ryanne Higgins seven minutes into overtime to lead Mansfield to a 3-2 win over Houghton in a non-conference game at Spaulding Thursday afternoon.
The win snapped a two-game skid for Mansfield and guaranteed the #8 Mountaineers their second straight winning season.
Mansfield started strong scoring in the third minute when senior Keely Jarrett banged in a shot off a rebound for her eighth goal of the season.
Higgins made the score 2-0 in the 30th minute when she put in a rebound after a scrum in front of the goalie.
The goals by Jarrett and Higgins were the 40th of their careers and become just the third and fourth players to reach that milestone in school history behind all-time goal leaders Gretchen Reschke and Kristi Swartz (43).
Houghton tied the score by scoring two goals within a minute of each other midway through the second half. Elizabeth Mueller scored both goals for the Highlanders.
The game remained tied until the overtime session where Manfield dominated the extra session out shooting Houghton 6-0.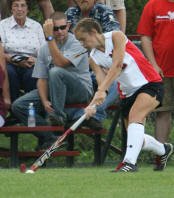 Mansfield out shot Hougton 17-1 in the first half and 28-6 for the game.
Houghton goalie Ashley Farr made 15 saves while Mansfield goalie Hayley Tuckey made three saves in her second career start.
Mansfield faces a do-or-die situation when the Mountaineers host Slippery Rock in the regular season finale this Saturday starting at noon at Spaulding Field.
Mansfield must beat Slippery Rock and Shippensburg must lose to #1 IUP on Saturday for the Mountaineers to advance to their second straight PSAC playoff berth.
Field Hockey Game Summary (Final)
Houghton College vs #8 Mansfield (Oct 18, 2007 at Mansfield, PA)
Houghton College (6-9) vs. Mansfield (10-7)
Date: Oct 18, 2007 Attendance: 80


Goals by period 1 2 OT Tot
----------------------------------
Houghton College.... 0 2 0 - 2
Mansfield........... 2 0 1 - 3

SCORING SUMMARY:
1. 3:23 MANS Keely Jarrett (8) (unassisted)
2. 30:10 MANS Ryanne Higgins (10) (unassisted) - off rebound
3. 46:15 HCFH Elizabeth Mueller (3) (Jenny Huyett) - shot from top of circle
4. 47:21 HCFH Elizabeth Mueller (4) (unassisted) - shot from right side
5. 76:45 MANS Carlyn Spangler (5) (Ryanne Higgins) - center pass

Shots: Houghton College 6, Mansfield 28
Saves: Houghton College 15 (Ashley Farr 15), Mansfield 3 (Hayley
Tuckey 3)