RELEASE DATE: 9/11/07
FOR IMMEDIATE RELEASE: Tobin and Higgins lead Mansfield to 3-1 win over East Stroudsburg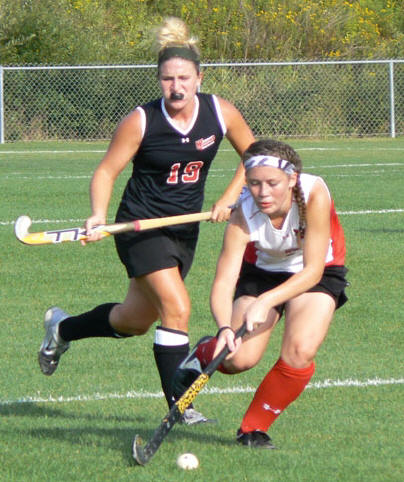 MANSFIELD – Breanne Tobin (Perkasie/Pennridge) scored twice and Ryanne Higgins (Newtown/Council Rock) added another to lift #8 ranked Mansfield to a 3-1 win over #6 ranked East Stroudsburg in a PSAC contest at Spaulding Field Tuesday afternoon.
"We expect to score and we expect to win," said head coach Diane Monkiewicz. "That's what happened today. We have a lot of players on this team who can score goals and we brought consistent pressure. Breanne and Ryanne played well and the defense came through when we needed them."
Mansfield pressured the goal early and often in the first half before Tobin scored the first of her two goals when she deflected in a free shot from Shana Markwis (Milford/Delaware Valley).
Tobin would score again off a rebound in front of the goal with just over a minute to play in the first half to give Mansfield a 2-0 lead at intermission.
The Mountaineers improved their lead to 3-0 when Higgins stayed with a deflected shot from Keely Jarrett (Pennsburg/Upper Perkiomen) taking it off the goalie's pads and putting it into the net.
Three minutes later, East Stroudsburg cut the score to 3-1 put the ball over the head of Mansfield goalie Brianna DeLuca (West Grove/Avon Grove).
But the Mountaineer defense, keyed by Courtney Grunza (Nicholson/Lackawanna Trail), Jenna Shaub (Quarryville/Solanco), Shantee Proctor (Forty Fort/Wyoming Valley) and DeLuca stayed the course to give Mansfield its fifth win in six games this season.
Deluca had two saves while East Stroudsburg's Carolyn Kisling was credited with six saves.
Mansfield held a 12-5 shot advantage.
Mansfield will travel to #9 Shippensburg Saturday for a noon start.
Field Hockey Game Summary (Final)
ESU vs Mansfield (Sep 11, 2007 at Mansfield)
ESU (3-3) vs. Mansfield (5-1)
Date: Sep 11, 2007 Attendance: 89
Weather: overcast – mid 70's
Goals by period 1 2 Tot
-------------------------------
ESU................. 0 1 - 1
Mansfield........... 2 1 - 3
SCORING SUMMARY:
1. 21:33 MANS Breanne Tobin (Shana Markwis) - off a free shot, deflected in by Tobin
2. 33:58 MANS Breanne Tobin (unassisted) - off a rebound
3. 45:19 MANS Ryanne Higgins (unassisted)
4. 48:14 ESU Kierstyn DeNardo (Molly McNeil) - pass off the corner, high shot over goal
Shots: ESU 5, Mansfield 12
Saves: ESU 6 (Carolyn Kisling 6), Mansfield 2 (Brianna DeLuca 2)