RELEASE DATE: 10/13/07
FOR IMMEDIATE RELEASE: Field Hockey drops 4-1 decision at #2 Bloomsburg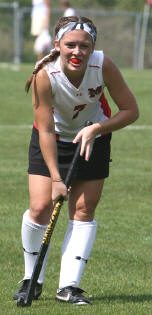 BLOOMSBURG – Breanne Tobin scored her 13th goal of the season but it wouldn't be enough as #9 Mansfield dropped a 4-1 at #2 Bloomsburg Saturday afternoon.
Bloomsburg (15-2, 10-2) got off the mark fast, scoring its first goal 39 seconds into the game on a shot by Maggey Bloskey.
Bloomsburg scored again with a little more than three minutes to play in the first half on a goal by Jamie Vanartisdalen to take a 2-0 advantage into intermission.
The Huskies scored again within the first two minutes of the second half before Mansfield cut the advantage to 3-1 when Tobin scored off an assist from Keely Jarrett in the 43rd minute.
Bloomsburg would put the game away with a goal by Whitney Miller in the 55th minute.
Brianna DeLuca had 12 saves in goal for Mansfield.
Mansfield (9-6, 6-6) entered the contest with a two game advantage over Shippensburg for the final PSAC playoff berth.
Mansfield ends the regular season this coming week with three straight home games hosting nationally ranked Kutztown on Wednesday, a non-conference game with Houghton on Thursday and Senior Day against Slippery Rock on Saturday.
Soccer Game Summary (Final)
Mansfield vs Bloomsburg Univ. (Oct 13, 2007 at Bloomsburg)
Mansfield (9-6 (6-6 PSAC)) vs. Bloomsburg Univ. (15-2 (10-2 PSAC))
Date: Oct 13, 2007 Attendance: 62
Weather:
Goals by period 1 2 Tot
-------------------------------
Mansfield........... 0 1 - 1
Bloomsburg Univ..... 2 2 - 4
SCORING SUMMARY:
1. 0:39 BLOOM Maggey Bloskey (Samantha Kropa)
2. 31:47 BLOOM Jamie Vanartsdalen (Tara Bourke)
3. 36:35 BLOOM Samantha Kropa (Maggey Bloskey)
4. 42:07 MANS Breanne Tobin (Keely Jarrett)
5. 54:58 BLOOM Whitney Miller (Liz Macready) - Corner kick
Shots: Mansfield 2, Bloomsburg Univ. 24
Saves: Mansfield 12 (Brianna DeLuca 12), Bloomsburg Univ. 3 (Allison
Ziants 1; Erin McGinley 2)