RELEASE DATE: 9/19/07
FOR IMMEDIATE RELEASE: Field Hockey falls to #3 Bloomsburg 3-0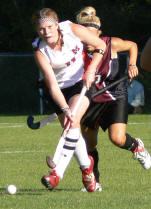 MANSFIELD – Jamie Vanartsdalen scored twice to lead #3 Bloomsburg to a 3-0 win over #8 Mansfield in a PSAC contest at Spaulding Field Wednesday afternoon.
Mansfield controlled the tempo early getting off the games first six shots over a ten minute span but couldn't put the ball in the net.
Ryanne Higgins just missed giving Mansfield an early lead when her hard shot from 10 yards out hit off the right post and back into play.
Vanartsdalen scored the games first goal on a breakaway at the 15 minute mark and Bloomsburg added another on a goal by Whitney Miller off an assist from Ashley Heckard on a penalty corner with less than a minute to play in the first half.
Neither team managed to score for the first 25 of the second half before would score again at the 61:22 mark.
Bloomsburg (7-1, 4-1) held a 27-16 shot advantage and a 12-11 advantage in corners.
Brianna DeLuca had a season high 15 saves for Mansfield while Allison Ziants and Erin McGinley each record five saves for Bloomsburg.
It was the first time this season Mansfield (5-3, 2-3) had been shutout and the first time in 20 games stretching back to last season the Mountaineers failed to score in a game.
Mansfield travels to undefeated and #2 ranked Kutztown on Saturday.
Field Hockey Game Summary (Final)
#3 BLOOM vs #8 Mansfield (Sep 19, 2007 at Mansfield)
BLOOM (7-1) vs. Mansfield (5-3)
Date: Sep 19, 2007 Attendance: 157
Weather: Sunny, Breezy, Mid 80's
Goals by period 1 2 Tot
-------------------------------
BLOOM............... 2 1 - 3
Mansfield........... 0 0 - 0
SCORING SUMMARY:
1. 15:36 BLOOM Jamie Vanartsdalen (18) (unassisted)
2. 34:09 BLOOM Whitney Miller (2) (Ashley Heckard) - Penalty corner
3. 61:22 BLOOM Jamie Vanartsdalen (19) (unassisted) - of the rebound
Shots: BLOOM 27, Mansfield 16
Saves: BLOOM 10 (Allison Ziants 5; Erin McGinley 5), Mansfield 15
(Brianna DeLuca 15)