Release Date: 8/24/07
FOR IMMEDIATE RELEASE: #8 ranked Mounties open 2007 with 3-1 win over Bellarmine University in Columbus, OH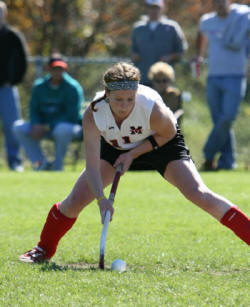 COLUMBUS, OH -- Ryanne Higgins, Keely Jarrett and Kelly Klimkowski each scored a goal and Brianna DeLuca recorded 12 saves to lead #8 ranked Mansfield to a 3-1 over Bellarmine (KY) University in the 2007 season opener for both teams in Columbus, OH Friday afternoon.
"We played like we had something to prove," said head coach Diane Monkiewicz. "It was a terrific effect under difficult conditions. We expected to score and we did but DeLuca really stepped up and controlled play in front of the net."
Despite a heat index of 104-degrees and wearing black uniforms, the Mountaineers outlasted the elements and Bellarmine to win the season opener for the first time since 2001.
Higgins scored on a hard shot off the right side of the goal off a rebounded shot.15 minutes into the game.
The score remained 1-0 at halftime before Jarrett deflected a shot from Rebekah Brown past the goal early in the second half.
Bellarmine cut the scored to 2-1 midway through the half before Kelly Klimkowski put the game away with the first goal of her collegiate career with 15 minutes left in the game.
Brianna DeLuca had an outstanding game in goal taking control on a number of contested balls while recording 12 saves ... (more to come)