RELEASE DATE: 11/19/07
FOR IMMEDIATE RELEASE: Breanne Tobin Named to First Team NFHCA All-American honors – Ryanne Higgins earns second team accolades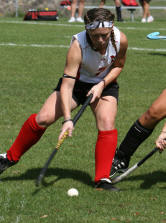 MANSFIELD – Mansfield University field hockey standouts Breanne Tobin (Perkasie/Pennridge) and Ryanne Higgins (Newtown/Council Rock) have been named to the National Field Hockey Coaches Association (NFHCA) Division II All-American team released today.
Tobin, a Second Team selection as a freshman last season, earned First Team honors while Higgins, also a Second Team selection in 2006, was named to the Second Team.
Tobin led the team the Mountaineers in goals and points this season with 15 goals and 33 points. She ranked 10 nationally in points per game with 1.83 and was ranked eighth nationally in goals per game with .83. Tobin is already fifth in career goals scored in Mansfield history with 38 and is fifth in points with 71.
Higgins was second on the team in goals with 12, tied for the team lead in assists with five and second in points with 29.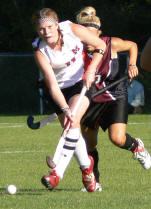 She ranked 12 nationally with 1.61 points per game with 1.61 and was 13 nationally in goals per game with .67. Higgins graduates Mansfield second in career goals scored with 42 by Gretchen Reschke and Kristi Swartz who each have 43. Higgins is second in career assists with 27 and second in points with 111.