HISTORY OF JOSEPH B.SHAUTE FIELD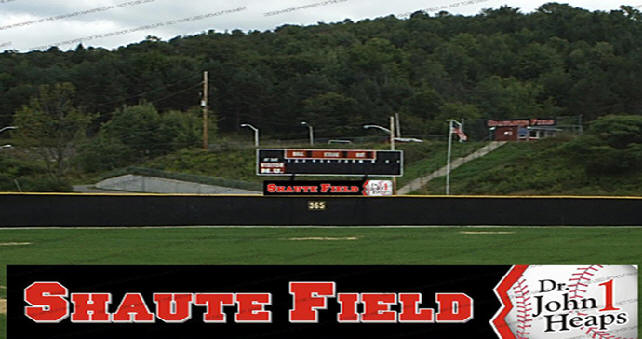 Shaute field has been the playing field for the mountaineers since the early 1970's. Over the past 10 years has undergone a complete transformation, making it one of the top division II baseball complexes in the northeast. A new drainage system and full infield tarp make the postponements rare for spring and fall baseball. The field boasts one of the largest seating capacities of any stadium in the Pennsylvania state athletic conference. Six sets of bleachers, each seating over 100 fans sit atop newly installed concrete pads. A new nine inning scoreboard is the largest in the conference. The field features on-site concession, permanent rest rooms, and upgraded public address system facilities provided fans with an enjoyable atmosphere for championship division ii baseball. Press facilities include telephone and radio lines. The hitting area includes two Astroturf bating cages as well as six soft toss hitting boxes.
The field was named in honor of Joseph B. Shaute, who was a standout pitcher for the mountaineers in the late 1910s and early 1920s. Shaute left Mansfield for the major leagues and broke in with the Cleveland Indians in 1922. In his first league game the first batter he faced was Babe Ruth, who he struck out on three straight pitches. However the babe would get his revenge when in 1927 he blasted home runs numbers 30, 50, and 52(en route to 60 for the season) of Shaute.
Shaute's finest year in the majors was 1924 when he posted a 20-17 record. He was the first American league hurler to win 20 games in 1924, but because of a late-season slump, Walter "Big Train" Johnson of the Washington senators beat him out for the most victories.
In his 13 years in the major leagues, Shaute compiled a 99-109 career. After 10 seasons with the Indians, he was traded to the Brooklyn dodgers in 1931, and finished his career in the national league with the Cincinnati Reds in 1934.
| | |
| --- | --- |
| | |
| Enjoy the Beautiful Scenery at Mansfield | Batting Cages |
| | |
| View From The Hill In Right Field | Home Dugout as of Fall |