RELEASE DATE: 11/24/08
FOR IMMEDIATE RELEASE: MOUNTIE BASEBALL TO HOLD POPULAR CHRISTMAS CLINICS DEC. 26, 28, 29 – MINI-CAMP ON DEC. 27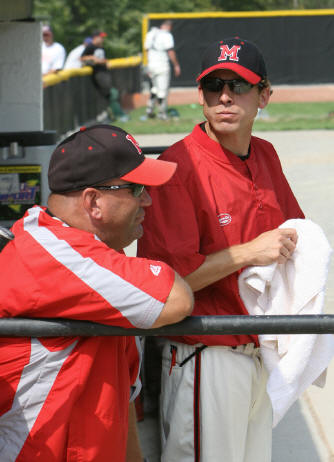 MANSFIELD – Looking for the perfect Christmas gift for your favorite baseball player?
Because of popular demand, the Mansfield University baseball program will host an expanded 16 sessions of its popular Christmas Baseball Clinics this year including a mini-camp option for those seeking a more intensified experience.
A long-time stocking stuffer tradition, the sixteen sessions will be broken down into age groups of 7-12 and 13-18 and will be offered Dec. 26,27,28,and 29. Registration for all clinics is Decker Gym. Indoor facilities include Decker Gym and the Kelchner fitness Center.
Under the direction of long-time Mountaineer Head Coach Harry Hillson, Assistant Baseball Coach Chris Francis, Assistant Baseball Coach Casey Baker, Wellsboro High School Baseball Coach Matt Perry and the Mountaineer baseball team, the clinics have proven to be one of the most popular post-Christmas activities for area baseball players.
The MU baseball program has been one of the most successful in the nation in the last two decades and has earned a national reputation for hitting. Over the past fifteen seasons, the Mountaineers have finished in the top ten in hitting in NCAA Division II six times, including winning the national batting title in 1994 with a .371 team batting average. In 2005, the Mountaineers Eric Baker led the nation in hitting with a .500 batting average. The Mountaineers led the PSAC in hitting with a .336 batting average and homeruns with 41 in 2008.
The Hitting Clinic provides participants with one-on-one instruction, drill work, and live hitting in the areas only indoor batting cages along with drill work and videotape analysis.
The Pitching Clinic is designed to work on breaking down the mechanics of pitching, along with instruction, drill work, live mound work, videotape and radar gun analysis.
The Mini-Camp provides a full day of hitting, defense, specific position development, base running, strength and agility training as well as the mental aspects of the game.
A new addition this year is the Elite Defensive Skills featuring infield, outfield, or catching instruction. Each player will receive intensified instruction in basic and advanced concepts relating to their position.
The cost for each three-hour clinic is $35 per player. The full day Mini-Camp is $70. Registration is available by calling Harry Hillson at (570) 662-4457 or 662-7273. Call for team rates.
You may also register on the MU baseball webpage at www.GoMounties.com and click on the baseball page
CLINICS FOR AGES 7-12 CLINICS FOR AGES 13-18
1) December 26 /Hitting noon-3pm 2) December 26 / Hitting noon-3pm
3) December 27 /Mini Camp 11am-5pm 4) December 27 /Mini Camp 11am-5pm
5) December 28 /Hitting 11am-2pm 6) December 28 / Pitching 11am-2pm
7) December 28 /Pitching 2-5pm 8) December 28/Elite Defensive Skills 11am-2pm
9) December 28/Elite Defensive Skills 2-5pm 10) December 28/ Hitting 2-5pm
11) December 29/ Hitting 11am-2pm 12) December 29/ Hitting 11am-2pm
13) December 29 /Pitching 2-5pm 14 December 29/Pitching 2-5pm
15) December 29 / Elite Defensive Skills 2-5pm 16) December 29 / Elite Defensive Skills 2-5pm