RELEASE DATE: 5/12/07
FOR IMMEDIATE RELEASE: Mansfield University athletics and Mountaineer baseball mourn the passing of Dr. John Heaps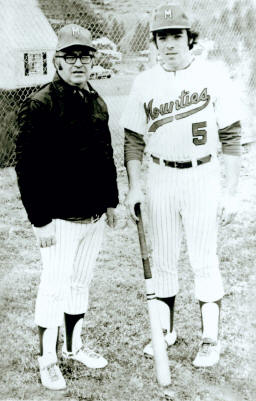 MANSFIELD – Dr. John Heaps, one of the most successful coaches and professors in Mansfield University history, passed away Friday evening, May 11 at the Robert Packer Hospital in Sayre.
"We've played baseball at Mansfield for 140 years," said current head coach Harry Hillson. "But no one was more instrumental to the success of our program than Doc Heaps. He's the guy who made us a national power. Everything we do now is to maintain the program he built."
"He not only built a baseball program but he made Mansfield University and the Mansfield community a better place for all of us. He was one of the finest men I've ever known."
Dr. Heaps health had been in decline for the past couple of months but the suddenness of his death surprised many.
Dr. Heaps first came to Mansfield as an elementary education teacher and assistant basketball coach under the legendary Bill Gibson. He helped build the men's basketball program into one of the best small-college programs in the country winning three of the first four Pennsylvania State Athletic conference (PSAC) championships. The teams won 58 games with just seven losses from 1961-63
Heaps took over as the head coach of the Mountaineer baseball program in 1966 and within three years built the program into a perennial power in the PSAC and NCAA Division III baseball.
In 1970 his team went 26-6 winning the PSAC and NAIA District 10 titles. Heaps coached teams would go on to capture the PSAC East crown three more times and picked up his second conference championship in 1976.
In 1979, Dr. Heaps guided the Mountaineers to 26-10 overall record and a trip to the NCAA Division III National Championship where Mansfield finished third.
He posted winning season in 17 of 19 years as head coach compiling a 287-187 overall record.
Twenty four of his players were drafted in the major league draft including Tom Brookens, who played 12 seasons in the major leagues with the Detroit Tigers, New York Yankees and Cleveland Indians.
Heaps retired from coaching after the 1984 season (26-17) but remained as a professor in the education department at Mansfield. After retiring from teaching, Heaps remained active in the Mansfield community assisting with the annual Gifted Camp at Mansfield University and organizing educational overseas trips to Australia, New Zealand, and Europe.
Five years ago, Mansfield University dedicated it's newly built pressbox at Shaute Field in his honor.
He was still a fixture at Mountaineer home games until just before his death.
"Grown men across the county will break down in tears when they hear the news of his passing," said Hillson. "He just wasn't a great coach – that was actually the least of his contributions. John Heaps was a leader of men who distilled a sense of dedication and decency into everyone he came in contact with."
Mansfield University would be interested in any comments or stories you have on Dr. Heaps. We will post them on a page dedicated to his memory next week -- please email to smcclosk@mansfield.edu.