RELEASE DATE: 3/10/10
FOR IMMEDIATE RELEASE: Winona rallies to beat Mansfield 13-11 in Florida
WINTER PARK, FL – Winona, ranked No. 29 in the latest NCAA Division II Top 30 poll, rallied with eight runs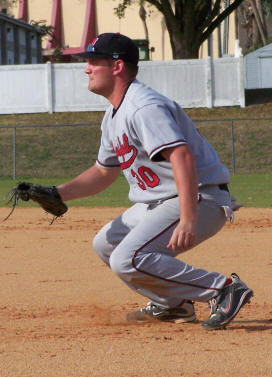 over the last three innings to beat Mansfield 13-11 at the RussMatt Invitational in Winter Park, FL Wednesday.
Mansfield took a 7-3 lead after the first three innings and led 8-5 going into the bottom of the sixth inning when Winona rallied with five runs, helped by three Mansfield errors, to take a 10-8 lead.
Mansfield scored twice to tie the score at 10-10 in the top of the eighth but Winona scored three runs in the bottom half of the inning to take a 13-10 advantage into the top of the ninth. The Mountaineers managed to score a run in the ninth but could pull no closer in falling to 4-3 on the season.
Shane Ryan got the start and went 6 2/3 innings before giving way to Joe Will who was charged with the loss. Mansfield pounded out 18 runs in the game led by Kevin Miller who went 4-6 with two doubles and two RBI. Mike Hartz went 3-6 with two doubles and two RBI with Dan Lough also going 3-6 with a double and two RBI.
Mansfield will play Chestnut Hill in a doubleheader in Ft. Pierce on Thursday.
Mansfield 232 100 021 11-18-5
Winona 300 115 03x 13-14-3
Mansfield (4-3): Shane Ryan, Joe Will (7) (L, 0-1) and Glen Jenkins
2b – Kevin Miller 2, Mike Hartz 2, Jon Taddeo, Dan Lough, Seth Tressler
RBI – Hartz 2, Miller 2, Lough 2, Taddeo 2, Dylan Woodworth, Chris Coleman, Glen Jenkins
Winona (10-4): Tyler Payne, John Wenker (4), Kodey Simon (7) (W, 1-0)) and Justin Streiff
2b – Tony Mueller 3 HR – Mueller, Jared Anderson
RBI – Mueller 4, Anderson 3, Ronnie Olson 2, Joe Kley 2, Ross Hellenbrand, Hans Heggernes