RELEASE DATE: 4/01/10
FOR IMMEDIATE RELEASE: Mounties drop doubleheader at No. 10 West Chester
Game One Box Score
Game Two Box Score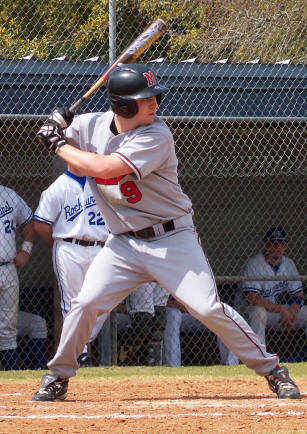 WEST CHESTER -- The Mansfield University baseball team dropped a PSAC East doubleheader at PSAC East frontrunner and No. 10 ranked West Chester Saturday afternoon at Serpico Stadium. Mansfield lost the opener 12-3 and the nightcap 11-5.
Mansfield, which split a doubleheader with West Chester at Mansfield on Friday, took a 1-0 lead in the opener when Dylan Woodworth led off the third with a double to center and scored on a Jon Taddeo sac fly.
But West Chester got three runs in the bottom of the inning and scored eight more over the next two innings to put the game out of reach.
Bryan Wilde took the loss for Mansfield while Matt Hamilton went 2-4 to lead the offense and Taddeo drove in two of Mansfield's runs.
In the nightcap Mansfield got three runs in the first on a sac fly from Chris Coleman and two run double by Seth Tressler.
West Chester got two runs back in their half of the inning and added five more in the second off two Mansfield errors.
Justin Garcia went the distance and took the loss for Mansfield. Hamilton went 3-3 with Mike Hartz going 2-3 with an RBI. Tressler was 2-3 with a double and two RBI.
Mansfield falls to 15-10 overall and is in fourth place in the PSAC East with a 5-7 record. The Mountaineers host Lake Erie on Tuesday.
GAME ONE
Mansfield 001 001 1 3-6-2
West Chester 003 441 x 12-9-1
Mansfield (15-9, 5-6 PSAC East): Bryan Wilde (L, 3-2), Marc Baker (5) and Glen Jenkins
2b – Dylan Woodworth RBI – Jon Taddeo 2, Mike Hartz
West Chester (25-5, 11-2 PSAC East): Jordan Lehman (W, 3-0) and Bob Stumpo
2b – Charlie Kelly, Christian Cox HR – Kevin McGrath (5), Kyle Orensky (7)
RBI – Joe Wendle 3, Nick Spisak, McGrath, Orensky, Brandon Wolfe, Cox, Josh Heyne
GAME TWO
Mansfield 300 011 0 5-10-4
West Chester 251 201 x 11-12-1
Mansfield (15-10, 5-7 PSAC East): Justin Garcia (L, 1-2) and Jenkins
2b – Matt Hamilton, Seth Tressler RBI – Tressler 2, Hartz, Chris Coleman, Dan Chevalier
West Chester (26-5, 12-2 PSAC East): Dave Stieg (W, 3-1), Carman Daddario (6), John Hopkins (6) and Stumpo
2b – Brandon Wolfe HR – Charlie Kelly (6)
RBI – Kevin McGrath 2, Kyle Orensky 2, Matt Baer 2, Joe Wendle, Charlie Kelly, Brandon Wolfe