RELEASE DATE: 3/30/10
FOR IMMEDIATE RELEASE: Mansfield baseball sweeps Slippery Rock 5-1, 14-8
Game One Box Score
Game Two Box Score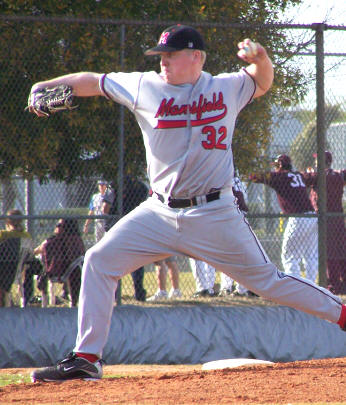 MANSFIELD – Freshman Joel Worthington threw a complete game five-hitter in the opener and Mansfield erupted for 11 runs in the fourth inning of the nightcap to sweep Slippery Rock 5-1, 14-8 in a PSAC interdivision doubleheader at Shaute Field Tuesday afternoon.
In the opener, Worthington was masterful in picking up his first collegiate win scattering five hits – all singles – and striking out five with no walks in going the distance.
Mansfield broke a scoreless game with a run in the second when Matt Hamilton drew a bases-loaded walk to score Levi Weiskopff. Slippery Rock tied the game with run in the third off a wild pitch before Mansfield plated four runs in the fourth on a two run single by Dan Chevalier and RBI single from freshman Jon Taddeo.
Chevalier led the offense going 2-4 with two RBI.
In the nightcap, Mansfield rallied from a 3-1 deficit by sending 15 batters to the plate in an 11-run fourth inning. Chevalier and Kevin Miller each had two RBI's during the inning.
Hamilton went 3-4 from the plate while Miller, Dan Lough, Chevalier and Glen Jenkins each had two hits. Mike Martin picked up his first win of the season striking out five in five innings before being relieved by Joe Will.
The 14 runs were the most scored in a game by the Mountaineers, who improved to 5-1 at Shaute Field on the year, this season. Kevin Miller hit safely in both games to extend his hitting streak t eight straight games. Miller, who went 2-4 in the nightcap, recorded his team-leading seventh multiple hit game of the season.
Mansfield improves to 12-8 overall and host IUP in a doubleheader starting at 1 p.m. Wednesday.
GAME ONE
Slippery Rock 001 000 0 1-5-2
Mansfield 010 400 x 5-6-1
Slippery Rock (13-12): Mike Ritson (L, 1-1), Justin Thomas (4), Zach Jeney (5) and Derek DiRuscia

Mansfield (11-8): Joel Worthington (W, 1-2) and Glen Jenkins
RBI - Dan Chevalier 2, Matt Hamilton, Kevin Miller
GAME TWO
Slippery Rock 003 010 4 8-13-3
Mansfield 100 11 02 x 14-14-2
Slippery Rock (13-13): Jason Steen (L, 0-2), John Thomas (4), Cory Johnson (4) and John Murray
2b – Matt Howard, Billy Messer RBI – Matt Howard 2, Adam Jury 2, Messer, Matt Kosik, Brandon Frohnapple
Mansfield (12-8): Mike Martin (W, 1-0), Joe Will (6) and Jenkins
2b – Matt Hamilton RBI – Kevin Miller 2, Dan Chevalier 2, Hamilton, Mike Hartz, Matt Miller, Chris Coleman, Jenkins