RELEASE DATE: 4/29/10
FOR IMMEDIATE RELEASE: Mansfield eliminated from PSAC Tournament in 18-9 loss to Slippery Rock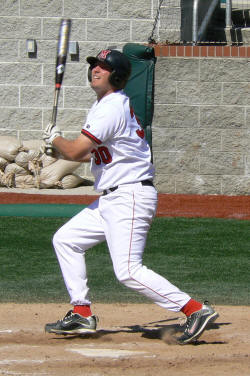 JOHNSTOWN – Slippery Rock broke open a tied game with six runs with two-outs in the sixth inning to beat Mansfield 18-9 and eliminate the Mountaineers from the PSAC Baseball Championship Tournament Thursday morning at Point Stadium in Johnstown.
Mansfield, which dropped a 6-5 heartbreaker to California in Wednesday's first round game, fell behind 3-0 before scoring a run on a long solo home run to right field by Chris Coleman in the bottom of the second.
After Slippery scored two more times in the top of the third, Mansfield tied the game at 5-5 with four runs in the third inning. Kevin Miller drove in the first run with a single and Mike Hartz plated two more with another single before freshman Seth Tressler drove in the tying run with a ground out.
Freshman starter Joel Worthington got the first two batters he faced out in the top of the fifth but Slippery Rock managed to score six runs on five hits and a Mansfield error to take a 11-5 lead.
Slippery Rock got three more runs with two outs in the sixth to effectively put the game out of reach.
Coleman and Glen Jenkins hit solo home runs for Mansfield while Hartz went 2-5 with a triple and two RBI's. Jon Taddeo also tripled while Miller went 2-5 with a run batted in.
George Hebert went the distance to get the win for Slippery Rock.
Mansfield, which fell to 32-18 with the loss, must now wait for more than a week to see if they are awarded an NCAA regional bid. Mansfield was ranked fourth in the Atlantic Region in this week's NCAA rankings with the PSAC and WVIAC champions each awarded one of the six regional bids.
Slippery Rock 18 Mansfield 9
Slippery Rock 212 063 130 18-17-0
Mansfield 014 000 112 9-11-3
Slippery Rock (26-22): George Hebert (W, 7-1) and Mitchell Monas
2b – Adam Jury 3b – Sean Howard HR – Carter Haponski (1), Monas (2), Matt Kosik (3)
RBI – Kosik 5, Haponski 4, Howard 2, Monas 2, Billy Messer 2, Jamison Walck, Derek DiRuscia
Mansfield (32-18): Joel Worthington (L, 2-4), Mike Martin(5), Zach Ullrich (6), Andy Young (7) and Glen Jenkins
2b – Dylan Woodworth 3b – Mike Hartz, Jon Taddeo HR – Chris Coleman (3), Jenkins (2)
RBI – Hartz 2, Seth Tressler 2, Kevin Miler, Coleman, Dan Chevalier, Woodworth, Jenkins