RELEASE DATE: 3/07/10
FOR IMMEDIATE RELEASE: Mounties sweep Seton Hill in season opener at Winter Haven, FL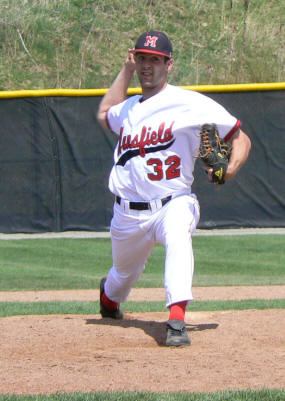 WINTER HAVEN, FL – Mike Hartz (Dauphin/Central Dauphin) doubled home the winning run in the top of the seventh in the opener and Bryan Wilde (Cheltenham/Cheltenham) threw a complete game three-hitter in the nightcap to lead Mansfield to a 12-11, 4-2 sweep over Seton Hill in the Mountaineers 2010 season opener at Winter Park, FL Sunday afternoon.
Mansfield scored in every inning in the opener getting a two-run home run from freshman Jon Taddeo (Williamsport/Williamsport) in the three-run fifth innings. With the score tied 11-11 in the top of the seventh, Mansfield's Brian Danner (Lewisberry/Red Land) doubled and scored the winning run when the next batter Hartz also doubled.
Bernard Johnson (Corning,NY/East) went the final two innings for Mansfield in relief of starter Chris Zelko (Horseheads,NY/Horseheads) allowing one run and striking out two to pick up the win. Hartz went 2-5 while Glen Jenkins (Glen Burnie,MD/Glen Burnie) had three RBI.
In the nightcap, Wilde went the distance scattering three hits and striking out four with the game being called because of darkness after the sixth.
Dan Lough (Minoa,NY/Minoa) went 2-3 with a double and two RBI to lead the Mountaineers. Hartz also double and drove in a run.
Mansfield will face Ohio Valley in a single game at Lakeland on Monday.
GAME ONE
Mansfield 122 231 1 12-10-2
Seaton Hill 140 231 0 11-11-3

Mansfield (1-0): Chris Zelko, Bernard Johnson (6) (w, 1-0) and Glen Jenkins
2b – Mike Hartz, Jenkins, Brian Danner, Kevin Miller
HR – Jon Taddeo (1)
RBI – Taddeo 3, Jenkins 3, Danner, Hartz, Miller, Chris Coleman, Dan Lough, Dan Chevalier
Seton Hill (3-6): Dan Astfalk, Greg Daviault (2), DJ Cannon (6) (L) and Pat Trettel
2b – David McCarthy 2 3b – Trettel
RBI – Trettel 4, Josh Logan 2, McCarthy, Patrick Kohl, Nate Defilippi, Nick Erminio, JR Tenney
GAME TWO
Seton Hill 000 200 2-3-1
Mansfield 110 110 4-6-0
Seton Hill (3-7): Dan Astfalk (L), Clint White (4) and Trettel
2b – Michael Leviseur RBI – Alex Hetrick, Josh Logan


Mansfield (2-0): Bryan Wilde (W, 1-0) and Jenkins
2b – Hartz, Dan Lough
RBI – Lough 2, Hartz, Seth Tressler