RELEASE DATE: 3/09/10
FOR IMMEDIATE RELEASE: Mounties split with Rockhurst -- Seth Tressler triples and scores winning run in top of seventh in nightcap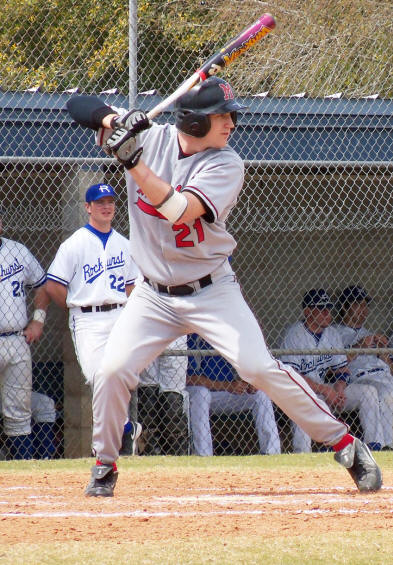 WINTER HAVEN, FL – Freshman Seth Tressler (Howard/Bellefonte) tripled and scored the winning run in the top of the seventh to lead Mansfield to a 5-4 win over Rockhurst in the nightcap of a doubleheader Tuesday at the RussMatt Invitational in Winter Haven, FL.
Rockhurst held on for a 14-12 win in the opener.
In the nightcap, Mansfield scored three runs in the third with two of them coming on a single by Dan Chevalier (Herndon,VA/Herndon), and led 4-2 when Rockhust scored twice in the bottom of the sixth to tie the game. With one out in the top of the seventh Tressler lined a drive off the centerfield fence and used his speed to stretch a double into a triple. The next batter, Mike Hartz (Dauphin/Central Dauphin), ground out to the left side of the infield with Tressler scoring what proved to be the winning run on the play.
Bernard Johnson (Corning,NY/East), who had come into the game in relief of starter Mike Martin (Stevensville/Wyalusing) in the fifth, returned the side in order , including a strikeout, in the bottom of the seventh to pick up the win. Johnson went 1 2/3 innings giving up two hits and striking out one. Martin scattered five hits over 5 1/3 innings striking out four and walking one.
Chris Coleman (Carbondale/Carbondale) led the offense going 3-3 from the plate with two doubles and a RBI. Tressler went 2-4 including a triple and also had two stolen bases. Kevin Miller (Kenvil,NJ/Roxbury) was 2-4.
In the opener, Rockhurst broke up a 3-3 tie after the first three innings but scoring 11 runs over the next three innings to take a 14-4 lead into the bottom of the sixth.
In the sixth, Mansfield exploded for eight runs on eight hits but could pull no closer. Matt Hamilton (Roundhill,VA/Loundon Valley)paced the offense going 2-4 with a double and home runs while driving in three runs. The home run was his second of the season and came with a runner on in the second.
Coleman went 3-4 with two RBI while Miller and Chevalier both were 2-3.
Mansfield is 4-2 on the season and plays Winona in a single game tomorrow.
GAME ONE
Rockhurst 012 434 0 14-15-0
Mansfield 021 018 0 12-14-4

Rockhurst (7-2): Ben Baker (w), Jason Brown (5), Nick Lichtenberger (7) (s) and T.J. Daily
2b – Ryan Porter, Dustin Ladyman HR – Ladyman
RBI – Ladyman 4, Porter 4, Mike Walczuk 2, Tom Stevison, Jeff Wilson, Brandon Tangney, Anthony Davis
Mansfield (3-2): Joel Worthington (L, 0-1), Marc Baker (5), Brian Milliman (5), Drew Peterson (6), Zach Ullrich (6) and Glen Jenkins
2b – Matt Hamilton, Bryan Wilde HR – Hamilton (2)
RBI – Hamilton 3, Chris Coleman 2, Ernie Ruch 2, Dan Lough 2, Levi Weiskopff, Dylan Woodworth, Lance Ratchford
GAME TWO
Mansfield 003 010 1 5-8-1
Rockhurst 101 002 0 4-9-1
Mansfield (4-2): Mike Martin, Bernard Johnson (6) (W, 2-0) and Jenkins
2b – Chris Coleman 2, Mike Hartz 3b – Seth Tressler
RBI – Dan Chevalier 2, Coleman, Hartz, Kevin Miller
Rockhurst (7-3): Patrick Chandler, Alex Seier (5) (L) and Drew Daubman
2b – Mike Garza, Ben Baker
RBI – Stevison, Porter, Ladyman, Garza