RELEASE DATE: 3/17/10
FOR IMMEDIATE RELEASE: Mansfield ranked 9th in latest NCBWA Division II Atlantic Region poll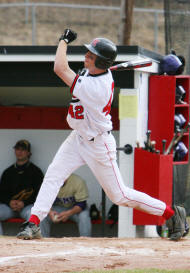 MANSFIELD – Following a successful trip to Florida, the Mansfield University baseball team has moved into the National Collegiate Baseball Writers Association (NCBWA) NCAA Division II Atlantic Region poll this week ranking in a tie with division rival East Stroudsburg.
Mansfield is currently 6-4 on the season after suffering a late-inning 5-4 loss at Wilmington (DE) yesterday.
The Mountaineers open the 2010 PSAC East season at Millersville on Friday and return home to host the Marauders' in for their home opener at Shaute Field in a doubleheader on Saturday.
The PSAC features six of the top 10 teams in the regional poll with PSAC East rivals West Chester and Kutztown ranked first and second in the poll.
NCBWA Division II Atlantic Region Poll (3/17/10)
1. 1. West Chester (7) 88
2. 2. Kutztown (2) 83
3. 3. West Virginia State 66
4. 4. California (PA) 65
5. 5. Concord 51
6. 6. Mercyhurst 37
7. 7. Slippery Rock 25
8. 8. Shepherd 21
9. 9. Mansfield 20
9. East Stroudsburg 20