RELEASE DATE: 2/08/10
FOR IMMEDIATE RELEASE: Mansfield ranked sixth in PSAC East preseason poll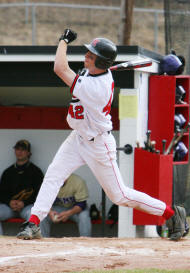 MANSFIELD – The Mansfield University baseball team was ranked sixth in the 2010 Pennsylvania State Athletic Conference (PSAC) East Division poll released by the PSAC office.
Mansfield was one of three teams in the PSAC East to receive at least one first-place vote. Kutztown and West Chester, which both received three first-place votes, are picked to finish first and second.
"We may only return three position starters from last season," said head coach Harry Hillson. "But we're going to surprise a lot of people. We have 17 new guys on the team this season and we're a lot deeper at almost every position."
Hillson ranks among the NCAA Division II coaching leaders with 714 wins in his first 23 season at the helm of the Mountaineer program.
Mansfield earned a PSAC playoff berth last season, finishing with a 10-14 conference mark and 23-30 overall record. The Mountaineers return two of their top three hitters in junior All-Regional outfielder Kevin Miller (.399 BS, 6 HR, 30 RBI) and senior first baseman Chris Coleman (.357, 4 HR, 30 RBI). Junior Mike Hartz, the other returning position starter, batted .294 with one home run and 26 RBI at shortstop.
Junior Chris Zelko heads the pitching staff. Zelko posted a 6-4 mark with 4.26 ERA last season.
Mansfield opens the season at Shepherd University on Feb. 27.
Eastern Division
1. Kutztown (3)
2. West Chester (3)
3. Shippensburg
4. East Stroudsburg
5. Millersville
6. Mansfield (1)
7. Bloomsburg
Western Division
1. Slippery Rock (2)
2. Mercyhurst (1)
3. California (2)
4. IUP (2)
5. Lock Haven
6. Clarion
7. Gannon