RELEASE DATE: 4/26/10
FOR IMMEDIATE RELEASE: Mansfield moves up to No. 4 in NCBWA Atlantic Regional Poll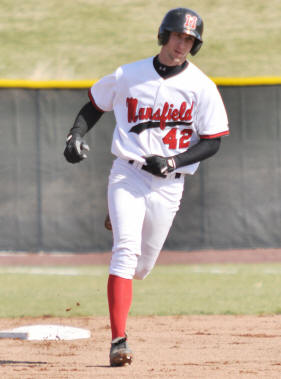 MANSFIELD – The Mansfield University baseball team continued its climb up the National Collegiate Baseball Writers Association (NCBWA) NCAA Division II Atlantic Region Poll moving up to No. 4 in the latest edition released today.
Mansfield won six of eight games last week to clinch the No. 3 seed from the PSAC East in the upcoming Pennsylvania State Athletic Conference (PSAC) playoffs in Johnstown and move up from No. 6 in last week's NCBWA poll.
Mansfield finished the regular season with a 32-16 record, the most regular season wins since winning 39 games during the regular season in 2002.
Mansfield will play California (PA) University in the opening game of the PSAC Championship Tournament this Wednesday at 9:30 a.m. at Point Stadium in Johnstown, PA.
The National Collegiate Baseball Writers Association's Division II Atlantic Regional poll for April 26, 2010 is as follows.
| | | | | |
| --- | --- | --- | --- | --- |
| Rank | Team | W- L | PTS | PREV |
| | | | | |
| 1. | West Chester (7) | 35-10 | 106 | 2 |
| 2. | Kutztown (4) | 34-11 | 103 | 1 |
| 3. | West Virginia State | 27-9 | 73 | 3 |
| 4. | Mansfield | 32-16 | 69 | 6 |
| 5. | Corcord, WV | 25-7 | 60 | 4 |
| 6. | California (PA) | 28-16 | 52 | 5 |
| 7. | Indiana (PA) | 29-22 | 38 | 10 |
| 8. | Seton Hill | 30-18 | 30 | 7 |
| 9. | Alderson-Broaddus, WV | 27-12 | 23 | 9 |
| 10. | West Virginia Wesleyan | 24-10 | 17 | NR |