RELEASE DATE: 3/08/10
FOR IMMEDIATE RELEASE: Mansfield baseball improves to 3-0 with 7-3 win over Ohio Valley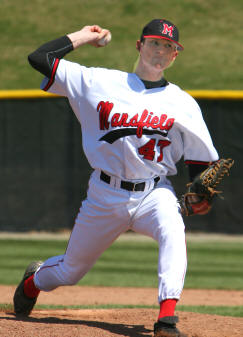 LAKELAND, FL -- Senior Justin Garcia (Blandon/Fleetwood) struck out eight batters over 7.1 innings to lead Mansfield to a 7-3 win over Ohio Valley (WV) in NCAA Division II baseball at Lakeland, FL Monday afternoon.
Garcia had one of his best outings in two years scattering five hits and walked two in earning his first win over the season. Senior Joe Will (Easton/Easton) got the save.
Mansfield scored once in the second and four more in the fourth before Ohio Valley got on the scoreboard with a solo run in the fifth. Ohio Valley cut the lead to 5-3 with a pair of runs in the top of the eighth but Mansfield scored twice in their half of the inning including on a solo home run by Matt Hamilton (Roundhill,VA/Loudon Valley).
Dan Chevalier (Herndon,VA/Herndon) went 3-4 with a double while Hamilton was 2-4 with a home run and two RBI while scoring three times. Kevin Miller (Kenvil,NJ/Roxbury) went 2-4 with a double.
Mansfield had 12 hits in the game.
The Mountaineers will host No. 5 ranked Grand Valley State in a night game at Winter Haven this evening.
Mansfield 7 Ohio Valley 3
Ohio Valley 000 010 020 3-8-1
Mansfield 101 400 02x 7-12-2
Ohio Valley (2-2): Kyle York (L, 0-1), James Valentin (7), Jordan Tuten (8) and Justin Warton
RBI – Joseph Hallinan, Joshua Saavedra
Mansfield (3-0): Justin Garcia (W, 1-0), Joe Will (8) (S-1) and Glen Jenkins
2b – Kevin Miller, Dan Chevalier HR – Matt Hamilton (1)
RBI – Chevalier 2, Brian Danner 2, Hamilton 2, Mike Hartz