RELEASE DATE: 4/22/10
FOR IMMEDIATE RELEASE: Mansfield baseball fifth in NCAA Division II Atlantic Regional rankings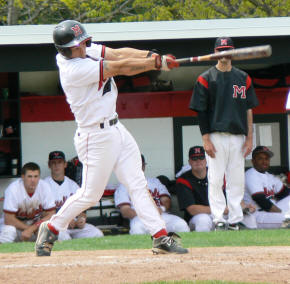 MANSFIELD – The Mansfield University baseball team is fifth in the NCAA Division II Atlantic Region rankings released today by the NCAA Division II Baseball Selection Committee.
Mansfield ranks behind Kutztown, West Chester, West Virginia State and Concord (WV). The top six teams in the final poll earn berths in the NCAA Division II Atlantic Region Championship Tournament.
Mansfield is currently 30-14 on the season and in the midst of an 11-game winning streak going into the final four games of the regular season. Mansfield host East Stroudsburg for a doubleheader on Friday and travels to East Stroudsburg for the regular season finale on Saturday.
Mansfield has a 28-12 record against in-region competition. The Atlantic Region comprises schools located in Pennsylvania, West Virginia, Virginia and North Carolina.
NCAA Division II Baseball Selection Committee
Atlantic Region Rankings
| | | | |
| --- | --- | --- | --- |
| Ranking | Team | Overall W-L | In-Region W-L |
| 1. | Kutztown | 30-9 | 29-9 |
| 2. | West Chester | 31-9 | 29-7 |
| 3. | West Virginia State | 25-6 | 23-3 |
| 4. | Concord (WV) | 22-5 | 21-4 |
| 5. | Mansfield | 30-14 | 28-12 |
| 6. | Seton Hill | 27-16 | 26-12 |
| 7. | Alderson-Broaddus (WV) | 23-12 | 19-10 |
| 8. | California (PA) | 24-14 | 23-14 |