RELEASE DATE: 3/05/10
FOR IMMEDIATE RELEASE: Mountie baseball opens 2010 season in Florida on Sunday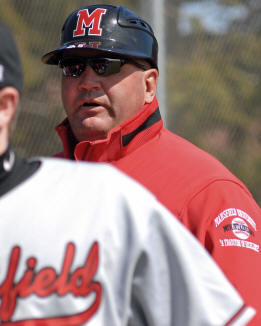 MANSFIELD – The Mansfield University baseball team will open the 2010 season this Sunday, March 7 when they play Seton Hill University in a doubleheader in Winter Haven, FL.
The season opener is the beginning of a 12-game Florida spring break trip in the RusMatt Invitational with games being played in Winter Haven, Lakeland and Ft. Pierce from March 7-13.
It will be an unusual year for head coach Harry Hillson, who has compiled 715 wins in his first 23 seasons at the helm, in that the Mountaineers return just three starting position players from last season's PSAC playoff squad along with just one returnee from the starting rotation.
That may not be as challenging as it appears with Hillson believing this year's team may have more overall talent than in 2009.
The offense will be led by returnees Kevin Miller (Kevnil,NJ/Roxbury), Chris Coleman (Carbondale/Carbondale) and Matt Hartz (Dauphin/Central Dauphin). Miller was an All-North Atlantic Regional selection last season after leading the team and ranking 12th in the PSAC in batting with a .399 average. The junior outfielder was also second on the team in home runs (6) and stolen bases (9).
Coleman started 47 games at first base last year and will assume the position again this season. The senior was third on the team in batting last season with a .357 average and had 15 extra-base hits including four home runs along with 30 RBI.
Hartz, a junior, started 47 games at shortstop batting .294 with 11 doubles a home run and 26 RBI.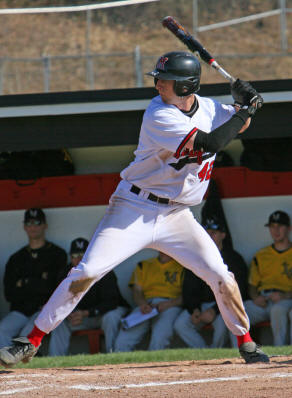 That leaves six open spots starting with second base where senior Matt Hamilton (Roundhill,VA/Loudon Valley) and freshman Seth Tressler (Howard/Bellefonte) are both expected to vie for the starting role. Freshman John Taddeo (Williamsport/Williamsport) is projected to start at shortstop with Hartz moving to third.
Junior Lance Ratchford (Oneonta,NY/Oneonta), who appeared in 15 games last season, will see a lot of action in a utility role with sophomore Eric Secor (Sayre/Sayre) backing up the middle infield. Freshman Matt Miller (Montoursville/Montoursville) will provide backup on the left side of the infield. Freshman Dan Lough (Minoa,NY/Minoa) will vie for a starting spot at DH and serve as a backup at first.
Kevin Miller will start in left field and junior Brian Danner (Lewisberry/Red Land) in right. Danner appeared in 21 games in his first season with the Mountaineers in 2009 batting .300. Freshman Dylan Woodworth (Hummelstown/Lower Dauphin) and junior Dan Chevalier (Herndon,VA/Herndon) have been competing for the starting nod in center during the preseason. Sophomore Levi Weiskopff (Mansfield/Mansfield) will serve as a backup.
Junior college transfer Glen Jenkins (Glen Burnie,MD/Glen Burnie) will start at catcher where he was the NJCAA National Gold Glove Award winner last season. He will be backed up by freshman Ernie Ruch (Orefield/Northwestern) and Kevin Miller.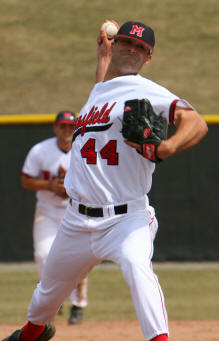 The pitching staff features nine returners led by junior Golden Glove winner Chris Zelko (Horseheads,NY/Horseheads) who posted a 6-4 mark with a team-best 4.26 ERA last season. Senior Justin Garcia (Blandon/Fleetwood) is the number two starter and hopes to return to his 2008 form that including a 4.15 ERA in 10 starts after an off season in 2009.
Junior fireballer Bryan Wilde (Cheltenham/Cheltenham) is slated to be the third starter in the rotation after transferring from Cecil Community College where he was a closer last season. Sophomore Andy Young (James Creek/Huntingdon) should be the fourth starter after appearing in 13 games as a freshman last year including five starts.
Returners Bernard Johnson (Corning,NY/Corning East) and Mike Martin (Stevensville/Wyalusing) will serve as starters and in the bullpen as will freshman Joel Worthington (Montgomery/Montgomery).
Seniors Shane Ryan (Levittown/Neshaminy), Zach Ullrich (Camp Hill/Cedar Cliff) and Joe Will (Easton/Easton) will return in the bullpen along with red-shirt freshman Drew Peterson (Alexandria/Juniata Valley) and newcomers Marc Baker (Apalachin,NY/Owego) and Brian Milliman (Groton,NY/Lansing).
Mansfield will host Millersville in its home opener on Saturday, Mar. 20.