RELEASE DATE: 5/6/10
FOR IMMEDIATE RELEASE: Mansfield ranked fourth in latest NCAA Atlantic Regional Rankings – Mounties move closer to regional playoff berth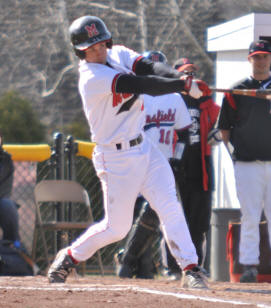 MANSFIELD – The Mansfield University baseball team got a bit of good news in their quest for a NCAA Division II Atlantic Region playoff berth when the Mountaineers were ranked fourth in the week's NCAA Atlantic Region rankings.
The top six teams six teams, which must also include the Pennsylvania State Athletic Conference (PSAC) and West Virginia Intercollegiate Athletic Conference (WVIAC) champions, will advance to the Atlantic Regional Championship with the winner advancing to the NCAA Division II World Series.
Despite dropping two games at the PSAC Championship tournament, Mansfield's strong strength of schedule kept the Mountaineers in fourth place in this week's rankings.
Kutztown, which finished second to California (PA) in the PSAC Championship, is ranked first in the region with West Chester second and West Virginia State third.
Mansfield is ranked fourth followed by Seton Hill and Concord of the WVIAC. West Virginia Wesleyan is seventh and California is eighth.
Despite being eighth, California has clinched one of the six Atlantic Region berths by winning the PSAC Championship and the automatic berth that goes with it. The WVIAC will be playing its conference championship this week in Johnstown and whatever team wins that championship will also receive an automatic bid.
That leaves four unclaimed spots to be decided by the Atlantic Regional Selection Committee and approved by the NCAA National Baseball Selection Committee. The six teams that will advance to the Atlantic Region Championship, and the site of the championship, will be announced Sunday night.
Atlantic Region Rankings
1. Kutztown 37-14
2. West Chester 36-12
3. West Virginia State 29-13
4. Mansfield 32-18
5. Seton Hill 31-19
6. Concord 28-7
7. West Virginia Wesleyan 29-10
8. California (Pennsylvania) 32-16