RELEASE DATE: 3/20/10
FOR IMMEDIATE RELEASE: Mansfield sweeps Millersville in home opener 13-5, 7-2 -- Lough belts two home runs in opener
Click to watch Youtube video of today's games
Photo Gallery From Today's Doubleheader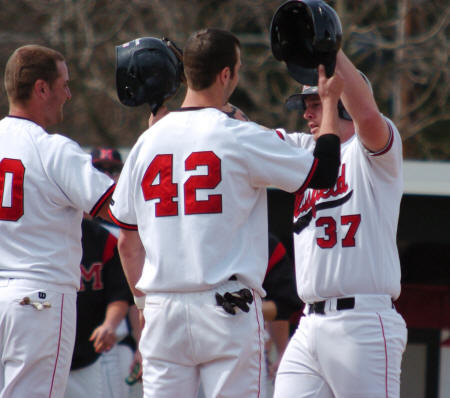 MANSFIELD – Dan Lough hit two home runs in the opener and Andy Young threw a complete game in the nightcap to lead Mansfield to a 13-5, 7-2 sweep over PSAC East rival Millersville in the Mountaineers 2010 home opener Saturday afternoon at Shaute Field.
In the opener, Mansfield scored a run in the first on an RBI double by Chris Coleman and added three more in the fourth with two coming off a Lough home run over the right centerfield fence and another on a double from Dan Chevalier.
Millersville took a 5-4 lead on a grand slam from Miles Gallagher in the fifth but Mansfield came right back with four runs of its won in the bottom of the inning with three of them coming on Lough's second home run of the game.
The Mountaineers added five more runs in the sixth to put the game out of reach. Justin Garcia started and went the first four innings before being relieved by Bernard Johnson who allowed no runs and just one hit while striking out four over the final three innings.
Lough went 3-4 with two home runs and six RBI while Coleman was 4-4 with a double and three RBI.
In the nightcap, Brian Danner led off the bottom of the first with a solo home run and Mansfield added six more runs in the inning including two on a home run by John Taddeo to stake starter Andy to a 7-0 lead.
Young held Millersville scoreless until two outs in the top of the seventh. He scattered nine hits and struck out five in recording his first win of the season. Matt Hamilton went 3-3 from the plate for the Mountaineers.
Mansfield improves to 9-5 overall and 3-1 in the PSAC East.
GAME ONE
Millersville 001 040 0 5-8-1
Mansfield 100 345 x 13-14-0
Millersville (6-10, 1-2 PSAC East): Brooks Rothschild, Zach Eckley (5) (L, 0-1), Andrew Hunt (6) and Miles Gallagher
2b – Corey Phelan, Derek Kline HR – Gallagher 2 (4)
RBI – Gallagher 5
Mansfield (8-5, 2-1 PSAC East): Justin Garcia, Bernard Johnson (5) (W, 3-0) and Glen Jenkins
2b – Seth Tressler, Chris Coleman HR – Dan Lough 2,(2)
RBI – Lough 6, Coleman 3, Dan Chevalier 2, Matt Hamilton, Jon Taddeo
GAME TWO
Millersville 000 000 2 2-9-1
Mansfield 700 000 x 7-8-1
Millersville (6-11, 1-3 PSAC East): Derek Kline (L, 1-2) and Gallagher
2b – Derek Kline, Adam Boyd, Scott Stevens RBI – Kline, Gallagher
Mansfield (9-5, 3-1 PSAC East): Andy Young (W, 1-1) and Jenkins
HR – Brian Danner (1), John Taddeo (2) RBI – Taddeo 2, Danner, Coleman, Dan Chevalier