RELEASE DATE: 3/19/10
FOR IMMEDIATE RELEASE: Zelko throws one-hitter in opener as Mansfield splits with Millersville in PSAC East opener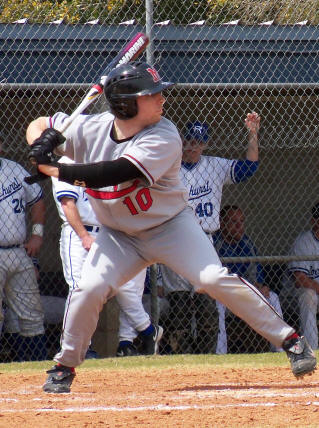 MILLERSVILLE – Chris Zelko threw a complete game one-hitter to lead Mansfield to a 2-0 win over Millersville in the first game of a PSAC East doubleheader at Millersville Friday afternoon. Millersville won the second game 2-0 in a pitching dual between Mansfield's Bryan Wilde and the Marauders Ryan Stauffer.
In the opener Zelko was masterful striking out five and walking just one batter. Zelko didn't allow a hit for the first five innings before Carlos Medina led off the bottom of the sixth with a single. He was erased when the next batter hit into a double play and Zelko retired the next five batters he faced to complete the shutout.
Millersville's Forrest Mengle held Mansfield scoreless until Chris Coleman singled to lead off the top of the fourth and advanced to second on a walk by Matt Hamilton. One out later Glen Jenkins drove in both runners with his second double of the day.
In the nightcap, Wilde and Stauffer squared off in a scoreless game until Millersville scored twice on a one-out single by Chris Edgar in the bottom of the sixth. In the seventh Mansfield got back-to-back singles from Coleman and Dan Lough with one out but couldn't push across the tying runs.
Wilde went 5.1 innings allowing just three hits and striking out two while issuing three walks. Mike Martin retired both batters he faced in relief of Wilde in the sixth.
The two teams will face each other in a doubleheader Saturday at Shaute Field starting at 1 p.m.
GAME ONE
Mansfield 000 200 0 2-4-1
Millersville 000 000 0 0-1-0
Mansfield (7-4, 1-0 PSAC East): Chris Zelko (W, 2-0) and Glen Jenkins
2b – Jenkins 2, Bryan Wilde RBI – Jenkins 2
Millersville (5-9, 0-1 PSAC East): Forrest Mengie (L, 1-2) and Miles Gallagher
GAME TWO
Mansfield 000 000 0 0-4-0
Millersville 000 002 x 2-3-0
Mansfield (7-5, 1-1 PSAC East): Bryan Wilde (L, 2-1), Mike Martin (6) and Glen Jenkins
Millersville (6-9, 1-1 PSAC East): Ryan Stauffer (W, 2-1) and Gallagher
RBI – Chris Edgar 2