RELEASE DATE: 4/05/10
FOR IMMEDIATE RELEASE: Mansfield baseball back in regional top 10 poll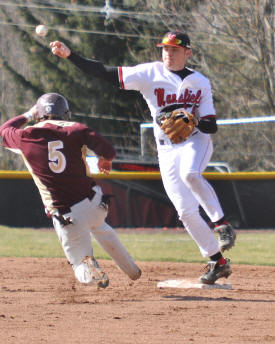 MANSFIELD – On the strength of a 5-3 week, the Mansfield University baseball team moved back into the National Collegiate Baseball Writers Association (NCBWA) Division II Atlantic Region poll. The Mountaineers are ranked 10th in this week poll released today.
Mansfield, which fell out of the poll last week after being ranked ninth in each of the previous two weeks, improved to 15-10 overall winning five out of eight games during including one over top-ranked West Chester.
Mansfield host Lake Erie College for a doubleheader on Tuesday starting at 1 p.m. at Shaute Field and will travel to Bloomsburg on Friday for a PSAC East doubleheader before hosting Bloomsburg at Shaute Field on Saturday.
RANK SCHOOL W-L PTS PREV
1 West Chester, Pa. (11) 26-5 110 1
2 Kutztown, Pa. 20-6 93 2
3 Concord, W. Va. 14-2 80 3
4 California, Pa. 19-10 68 5
5 Seton Hill, Pa. 21-10 66 6
6 West Virginia State 14-5 64 4
7 Mercyhurst, Pa. 15-13 28 8
8 Pitt-Johnstown, Pa. 15-11 26 9
9 Alderson-Broaddus, WV 17-7 25 10
10 Mansfield, Pa. 15-10 16 RV