RELEASE DATE: 4/06/10
FOR IMMEDIATE RELEASE: Mansfield belts nine home runs in sweep over Lake Erie College
Game One Box Score
Game Two Box Score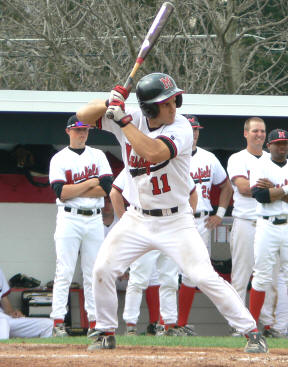 MANSFIELD – Mansfield belted nine home runs including two each by Matt Hamilton and Jon Taddeo to sweep Lake Erie College 15-4, 21-3 in a non-conference doubleheader at Shaute Field Tuesday afternoon.
The Mountaineers rapped out 30 hits over the two games including home runs by Hamilton, Taddeo, Levi Weiskopff, Dan Chevalier, Seth Tressler, Mike Hartz, and Dan Lough. Hamilton went 5-7 from the plate on the day with two home runs and two doubles while driving in six runs.
Mansfield also got solid pitching especially from Mike Martin who went the first six innings in the night allowing just two hits and striking out six with one walk.
In the opener Mansfield jumped on Lake Erie starter Pat Milligan for four runs in the bottom of the first when Hamilton led off with a shot over the left center fence. The Mountaineers added two more in the second on a runs scoring single by Chris Coleman and RBI double by Dan Chevalier.
Mansfield got an addition home run from Hamilton along with a two-run home run from Chevalier as well as a two-run home from Weiskopff in the sixth inning as part of its 13-hit attack. It was Weiskopff's, a Mansfield High School grad, first collegiate home run.
Three pitchers Andy Young, Marc Baker and Zach Ullrich combined for a seven-hitter. Hamilton went 4-4 with two home runs, a double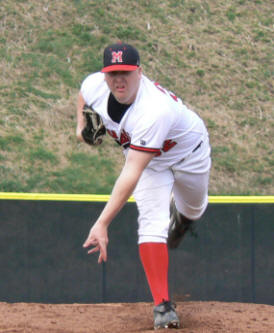 and four RBI's to led the offense with Coleman, Chevalier and Jon Taddeo all recording a two-hit game.
In the nightcap, Mansfield scored twice in the second when Tressler singled in a run and later stole home. Mansfield added six more runs in the third and nine more in the fourth to put the game out of reach.
Tressler went 4-4 in the second game with a double, home run and six RBI.
The 21 runs scored were the most in a game by a Mountaineer team since beating Clarion 22-7 in 2006.
Mansfield improves to 17-11 overall and travel to Bloomsburg for a PSAC East doubleheader on Friday.
GAME ONE
Lake Erie 000 220 0 4-7-0
Mansfield 421 503 x 15-13-2
Lake Erie (9-15): Pat Mulligan (L, 2-5), Chris Mason (2), Tim Birch (5) and Patrick Kilway
2b – Ryan Rua, Cody Blood, Mike Morgan HR – Brandon James (6)
RBI – James 2, Blood, Morgan
Mansfield (16-10): Andy Young (W, 2-2), Marc Baker (3), Zach Ulrich (5) (s-1) and Glen Jenkins
2b – Matt Hamilton, Kevin Miller, Dan Chevalier, Jon Taddeo HR – Hamilton 2 (4), Levi Weiskopff, Dan Chevalier, Taddeo (3)
RBI – Hamilton 4, Chevalier 3, Weiskopff 2,Taddeo 2, Miller, Chris Coleman, Seth Tressler
GAME TWO
Lake Erie 000 000 3 3-5-2
Mansfield 026 913 x 21-17-1
Lake Erie (9-16): Jimmie Shaw (L, 0-1), Pat Mulligan (3), Matt Lott (4), Zack Justice (4), Tim Birch (6) and Johnny Christani
HR – Matt Vanni (1), Cody Blood (1) RBI – Vanni 2, Blood
Mansfield (17-11): Mike Martin (W, 2-0), Bernard Johnson (7) and Glen Jenkins, Ernie Ruck (4)
2b – Dylan Woodworth 2, Brian Milliman, Seth Tressler HR – Mike Hartz (1), Tressler (2), Dan Lough (4), Jon Taddeo (4)
RBI – Tressler 6, Taddeo 3, Matt Hamilton 2, Woodworth 2, Hartz 2, Lough 2, Dan Chevalier, Glen Jenkins