RELEASE DATE: 3/28/10
FOR IMMEDIATE RELEASE: Mounties drop PSAC East doubleheader at Kutztown
Game One Box Score
Game Two Box Score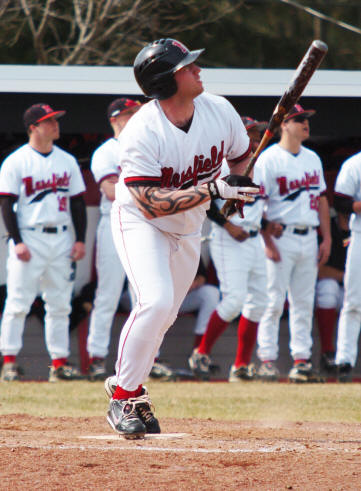 KUTZTOWN -- Mansfield stranded 11 runners in the opener and Kutztown rallied with four runs in the bottom of the fifth in the nightcap to sweep Mansfield 5-2, 7-3 in a PSAC East doubleheader Sunday afternoon.
In the opener Kutztown scored two runs in the bottom of the first on a two-out double by Mike Dugan before Mansfield tied the score by getting two runs on no hits in the second. Jon Taddeo plated the first run with a sac fly and Dan Chevalier scored on a wild pitch.
Kutztown scored what proved to be the winning runs in the bottom of the second scoring on a wild pitch and ground out.
Mansfield couldn't manage a timely hit, stranding two runners in the third, fourth and fifth innings as well as one runner in the sixth.
Justin Garcia went the distance to take the loss for Mansfield scattering five hits and striking out three over six innings. His younger brother Jordan Garcia picked up the win in relief for Kutztown. Dan Chevelier went 2-4 for Mansfield.
In the nightcap, Mansfield jumped out to a 3-0 lead scoring twice in the first on a two-run single by Dan Lough and added another run in the fourth inning on a leadoff home run by Lough over the left field fence.
Kutztown tied the score with three runs of its own in the bottom of the fourth off three hits and a walk and scored the winning runs an inning later on a two-out double by Dugan. Mansfield had runners at second and third with two outs in the seventh but could push the tying runs across the plate.
Bernard Johnson took the loss in relief of starter Andy Young. It marked Johnson's first loss in four decisions. Lough went 2-3 with a home run and all three RBI's with Taddeo going 2-3.
Mansfield falls to 4-4 in the PSAC East and is scheduled to host Slippery Rock on Monday in a make-up doubleheader starting at 1 p.m. Monday at Shaute Field.
GAME ONE
Mansfield 020 000 0 2-6-2
Kutztown 220 100 x 5-5-1
Mansfield (10-7, 4-3 PSAC East): Justin Garcia (L, 1-1) and Glen Jenkins
RBI – Jon Taddeo
Kutztown (16-6, 5-4 PSAC East): Tyler Pusun, Jordan Garcia (4) (W, 2-1) and Matt Kulbacki
2b –Jared Frey, Mike Dugan RBI – Mike Kacelowicz, James Quigley, Dugan
GAME TWO
Mansfield 200 100 0 3-6-2
Kutztown 000 340 x 7-7-0
Mansfield (10-8, 4-4 PSAC East): Andy Young, Bernard Johnson (5) (L, 3-1) and Jenkins
2b – Mike Hartz HR – Dan Lough (3)
RBI – Lough 3
Kutztown (17-6, 6-4 PSAC East): Jonathan Grosse (W, 4-0), Ryan Cassidy (6) and Matt Albaugh
2b – Dugan, Albaugh RBI – Quigley 2, Brad Stoudt 2, Jeff Kistle, Albaugh