RELEASE DATE: 5/14/10
FOR IMMEDIATE RELEASE: Kutztown scores four runs in top of ninth to rally past Mansfield 9-5 in NCAA Atlantic Regional elimination game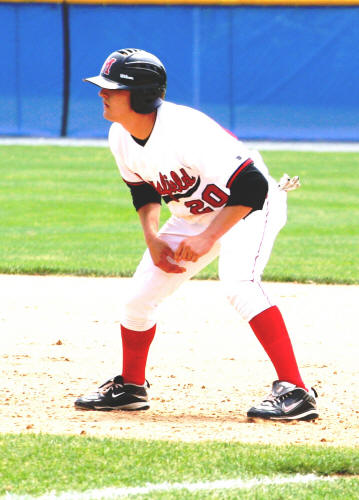 WEST LAWN, PA – Kutztown tied the game with a run in the eighth and added four runs in the top of the ninth to rally past Mansfield 9-5 in a loser's bracket game of the NCAA Division II Atlantic Regional Friday at Owls Stadium in West Lawn, PA.
"We made some mistakes. We didn't hit enough or pitch enough", said head coach Harry Hillson. "You score more runs than the other team, you're going to win and we had opportunities to do that but couldn't take advantage of them."
Mansfield jumped out to a 3-0 lead in the bottom of the first on an RBI single by Mike Hartz and two-run home run by Dan Chevalier that slammed off the scoreboard above the 385 marker in left center.
But Kutztown, the tournament's top-seed, came right back with three runs of its own in the top of the second will all three runs scoring of starter Justin Garcia with two outs in the inning and helped out by two hit batters.
Mansfield retook the lead 4-3 in the third when Kevin Miller led off with a double and later scored on Chris Coleman's fielder's choice.
Mansfield looked to add to its lead in the fourth loading the bases with one out before Kevin Miller hit a screaming line drive that was that was stabbed out of the air by the Kutztown shortstop and turned into an inning ending double play.
Kutztown tied the game in the fifth on a two-out run scoring double by Gilbert Vega.
Mansfield retook the lead 5-4 in the seventh when Hartz singled through the left side to drive in Matt Hamilton who led off the inning with a single.
Joel Wortington replaced Mansfield starter Justin Garcia in seventh and retired the side without a hit. He got the first two batters out in the eighth before Kutztown Shayne Houck drilled on 0-2 pitch over the centerfield wall to tie the game.
Mansfield went out 1-2-3 in the bottom of the eighth and Kutztown loaded the bases with no outs in the top of the ninth on a single, walk and throwing error. Two runs scored on a bloop single by Brett Wigder and another on a wild pitch. The damage could have been worse but freshman rightfielder Seth Tresser made a remarkable catch running into the fence in right field on a drive by Houck.
Mansfield managed a runner in the bottom of the ninth but could advance him past first.
Mike Hartz led the offense going 3-4 with two RBI's. Jon Taddeo went 2-3 while Chevalier hit his third home run of the season. Chris Coleman extended his hitting-streak to 26-games with a single.
Houck led Kutztown going 5-5 with a home run and three RBI.
Mansfield ends the year with a 32-20 overall record.
Kutztown 030 010 014 9-14-1
Mansfield 301 000 100 5-10-1
Kutztown (38-13): Tyler Persun, Adam Maini (4( (W, 2-2) and Matt Albaugh
2b – Mike Kacelowicz, Brett Wigder, Gilbert Vega HR – Shayne Houck (17)
RBI – Houck 3, Wigder 2, Corey Buletza, Vega
Mansfield (32-20): Justin Garcia, Joel Worthington (7) (L, 2-5), Mike Martin (9) and Glen Jenkins
2b – Kevin Miller HR – Dan Chevalier (3)
RBI – Mike Hartz 2, Chevalier 2, Chris Coleman