RELEASE DATE: 3/27/10
FOR IMMEDIATE RELEASE: Miller goes yard twice in nightcap to give Mansfield split with Kutztown

Click Here for Youtube video of Today's Game
Game One Box Score
Game Two Box Score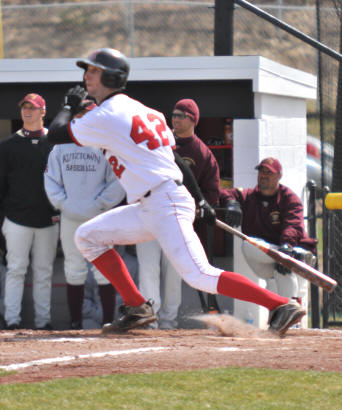 MANSFIELD – Kevin Miller hit two home runs and Bryan Wilde threw six shutout innings to lead Mansfield to a 6-3 win over Kutztown in the nightcap and a split in a key PSAC East doubleheader at Shaute Field Saturday afternoon.
Kutztown won the opener 10-2.
In the nightcap, Miller crushed a solo home run over the right field fence in the first to stake Mansfield to a 1-0 lead and added another solo shot in the fifth increasing the lead to 2-0. Mansfield added four runs in the sixth, with two of them coming off a double by Mike Hartz. Chris Coleman singled in with Miller driving in another run with a single give Mansfield a 6-0 advantage.
Mansfield starter Bryan Wilde, who threw shutout ball over the first six innings, was touched for three runs in the top of the seventh on a three run home run by Shayne Houck. Bernard Johnson came in relief and got the final two outs of the game to earn his first save of the season.
Wilde struck out seven and scattered eight hits in picking up his third win in four decisions on the season. Miller, who went 2-3 with two doubles and two RBI in the opener, was 3-4 with two home runs and three RBI. Chris Coleman went 2-4 with an RBI.
Miller went 5-7 with two doubles, two home runs and five RBI's on the day.
In the opener Mansfield struggled to get its offense in gear against Kutztown starter Nathan Reed. Mansfield managed just three hits in the game including the two doubles by Miller.
Chris Zelko suffered his first loss of the season for the Mountaineers.
Mansfield remains in second place in the PSAC East with a 4-2 record. The Mountaineers are 10-6 overall. The two teams will meet in a doubleheader at Kutztown on Sunday.
GAME ONE
Kutztown 005 302 0 10-10-0
Mansfield 002 000 0 2-4-1
Kutztown (15-5, 4-3 PSAC East): Nathan Reed (W, 2-2), Brandon Shurr (7) and Matt Kulbacki
2b – Shayne Houck, Jared Frey HR – Jeff Kistle (1), Houck (5)
RBI – Houck 4, James Quigles 2, Matt Kulbacki 2, Kistle, Jared Frey
Mansfield (9-6, 3-2 PSAC East): Chris Zelko (L, 2-1), Shane Ryan (4) and Glen Jenkins
2b – Kevin Miller 2 RBI – Miller 2
GAME TWO
Kutztown 000 000 3 3-8-0
Mansfield 100 014 x 6-8-1
Kutztown (15-6, 4-4 PSAC East): Trevor Resenberg (L, 0-1), Mike Bucklin (6) and Matt Albaugh
HR – Shayne Houck (6) RBI – Houck 3
Mansfield (10-6, 4-2 PSAC East): Bryan Wilde (W, 3-1), Bernard Johnson (7) (s-1) and Jenkins
2b – Mike Hartz, Matt Hamilton HR – Kevin Miller 2 (2)
RBI – Miller 3, Hartz 2, Chris Coleman