RELEASE DATE: 3/31/10
FOR IMMEDIATE RELEASE: Mansfield baseball extends winning streak to four with sweep over IUP
Game One Box Score
Game Two Box Score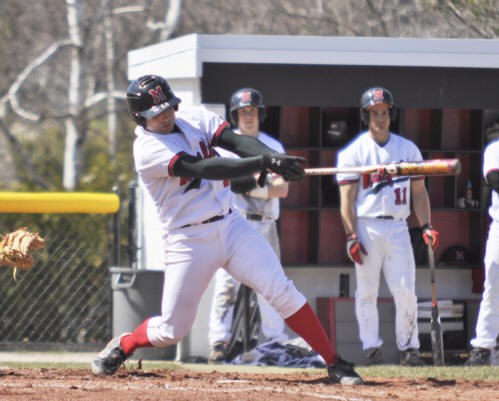 MANSFIELD – Marc Baker and Bernard Johnson combined for a two-hitter in the opener and Seth Tressler hit his first collegiate home run in the nightcap to lead Mansfield to a 2-1, 10-6 sweep over IUP in a PSAC interdivisional doubleheader at Shaute Field Wednesday afternoon.
The sweep extended Mansfield winning streak to four.
The opener turned out to be an old-fashion pitching dual between Mansfield Marc Baker and IUP Josh Hildebrand who locked into a 1-1 tie after six innings. Baker scattered two hits over those six innings with an earned run and a strikeout before being relieved in the seventh by Bernard Johnson who retired all six batters he faced over the last two innings, striking out two.
Trailing 1-0 after IUP scored in the first, Mansfield tied the score in the bottom of the sixth when Jon Taddeo drew a bases loaded walk. After neither team scored in the seventh to send the game into extra innings Chris Coleman led off the bottom of the eighth with a single and moved to second on a single by Brian Danner. After Matt Miller moved the runner up with a sac bunt, Taddeo delivered a game-winning single into right field for the win.
Johnson picked up his third win I four decision in relief while Taddeo drove in both runs.
In the nightcap, Mansfield scored a run in the second on a Taddeo RBI single and added two more in the third on RBI singles by Dan Chevalier and Dan Lough. The Mountaineers seemed to put the game out of reach with four runs in the fourth, three of them coming off a home run to center from Tressler.
Mansfield started Zach Ullrich was cruising through the IUP lineup allowing just two hits and no runs through the first five innings. But IUP chased Ullich from the mound touching him for four runs in the sixth before being relieved first by Bryan Wilde and the by Chris Zelko who went the last 1.1 innings to pick up the save.
Mike Hartz went 3-4 with two doubles while Tressler, Coleman, Chevalier and Taddeo each had two hits.
Mansfield improved to 14-8 on the season and will host first place West Chester in a key PSAC East doubleheader at Shaute Field on Friday.
Game One
Indiana 000 000 00 1-2-2
Mansfield 000 001 01 2-8-1
Indiana (9-15): Josh Hildebrand, Tyler Squibbs (7), Mitch Perez (L,0-3) and Brett Quiggle
3b – Kofi Osei-Aning RBI – Paul Bingham
Mansfield (13-8): Marc Baker, Bernard Johnson (7) (W, 4-1) and Glen Jenkins
2b – Matt Hamilton, Glen Jenkins RBI – Jon Taddeo
Game Two
Indiana 000 006 0 6-6-2
Mansfield 012 412 x 10-15-1
Indiana (9-16): Craig Hibell (L, 0-2), Chris Douglas (4) and Brett Quiggle
3B – Paul Bingham RBI – Cory Sawka 2, Dylan Songer 2, Kyle Stryker
Mansfield (14-8): Zach Ullrich (W, 1-0), Bryan Wilde (6), Chris Zelko (7) (s-1) and Ernie Ruch, Glen Jenkins (6)
2b – Mike Hartz 2, Dan Chevalier, Brian Danner, Jenkins, Jon Taddeo HR – Seth Tressler (1)
RBI – Tressler 3, Brian Danner 2, Chris Coleman, Chevalier, Dan Lough, Jenkins, Taddeo