RELEASE DATE: 3/18/10
FOR IMMEDIATE RELEASE: Mansfield baseball opens PSAC East season against Millersville this weekend – Mounties host Marauders for doubleheader on Saturday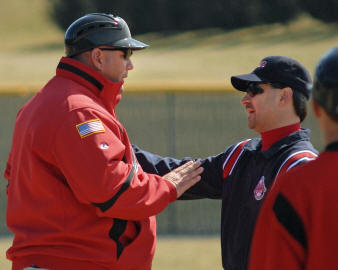 MANSFIELD – The Mansfield University baseball team will open the 2010 PSAC East schedule when they travel to Millersville for a doubleheader on Friday before hosting the Marauders for a twinbill Saturday at Shaute Field.
Saturday's home opener at Shaute Field starts at 1 p.m.
"I'm pretty pleased with what we've seen so far," said head coach Harry Hillson who is in his 24th season at the helm of the Mountaineer program. "We have a lot of new guys on the team and after seeing them in Florida I think we may be even better than I thought we were going to be."
The Mountaineers are 6-4 overall going into conference play with three of the four losses coming to teams that have appeared in the national rankings this season. Mansfield has shown a strong hitting-attack batting .343 as team on the season and averaging 6.9 runs per game.
Dan Lough, a sophomore designated hitter, tops the team with a .458 batting averaging with three doubles and six RBI. Freshman Seth Tressler brings blazing speed to the lineup and is hitting .400 over seven games with a double, triple and three stolen bases.
Junior Mike Hartz has started all 10 games this season at third after starting at shortstop last season. Hartz is
batting .395 with six doubles and nine RBI on the season. Senior Matt Hamilton has earned a starting spot at second base where he is batting .393 with a double, triple and two home runs while driving in nine runners.
Junior All-Region outfielder Kevin Miller is off to another solid start hitting .359 over the first 10 games with four doubles, a triple and seven steals. Senior Chris Colman returns at first base and is hitting .353 on the season this far with four doubles and nine RBI.
Dan Chevalier is starting in the outfield where he is batting .348 with two doubles and five RBI. Freshman Jon Taddeo is starting at short and batting .269 on the season with home run and five RBI while Glen Jenkins has started behind the plate in nine of the first ten games batting .208.
Junior Bryan Wilde is 2-0 on the mound with a 3.75 ERA so far this season with seven strikeouts in 13.0 innings. Wilde is teamed up with junior Chris Zelko as the top two starters. Zelko had one shaky outing in Florida before coming back with a three-hit complete game win over Chestnut Hill.
Senior Justin Garcia is 1-0 on the season with 11 strikeouts in 10.0 innings and two walks and senior Bernard Johnson is 2-0 on the season with eight strikeouts in nine innings.
Millersville is 5-8 on the season after dropping a 8-7 decision to Wilmington on St. Patrick's Day. The Marauders have gotten strong pitching performances from Derek Kline, who is 1-1 in three starts with a 1.84 ERA, and Forrest Mengle, also 1-1 in three starts with a 3.94 ERA.
Chris Edgar has been the leading hitter thus far this season with a .441 average while Miles Gallagher and Corey Phelan are hitting .391 and .380 respectively. Kline also has four home runs for Millersville.