RELEASE DATE: 4/19/10
FOR IMMEDIATE RELEASE: Mansfield's Mike Hartz named PSAC East Player of the Week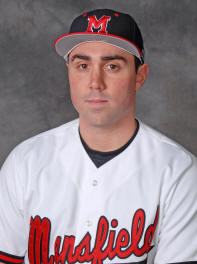 MANSFIELD – Mansfield University standout Mike Hartz (Dauphin/Central Dauphin) has been named the Pennsylvania State Athletic Conference (PSAC) East Division Player of the Week for his outstanding performance during the week ending 4/18/10.
The junior third baseman helped lead Mansfield to a 7-1 week by batting .517 while driving in a remarkable 17 RBI during the week. Hartz hit safely in all eight games to extend his current hitting streak to 10 games. He had five multi-hit games including two games with three hits.
Hartz also drove in at least one run in seven of the games including a career-best six RBI in a 15-11 win over Wilmington. He recorded four multi-RBI games and drove in four RBI's in an 18-7 win over Shippensburg. His timely hitting was the difference in two on-run wins and two two-run wins during the week.
For the week Hartz pounded out 15 hits in 29 at-bats with two doubles. He also scored five times in addition to his 17 RBI and stole a base with a .543 on-base percentage. In Mansfield's four-game sweep over Shippensburg which gave the Mountaineers sole possession of third-place going into the final weekend of the season, Hartz batted .615 with eight hits including a double and six RBI.
Hartz, the only player on the roster to start all 40 games this year, is batting .388 on the season with 49 hits including a team-best 16 doubles and one home run. He has driven in a team-best 40 runs while scoring 31 times.
Mansfield is currently 26-14 on the season and in third-place in the PSAC East with a 11-9 mark. The Mountaineers travel to Lock Haven for a doubleheader on Tuesday before hosting Washington Adventist in a doubleheader at Shaute Field on Wednesday.
###