RELEASE DATE: 3/08/10
FOR IMMEDIATE RELEASE: Mansfield suffers first loss of the season in 5-0 setback to No. 5 Grand Valley State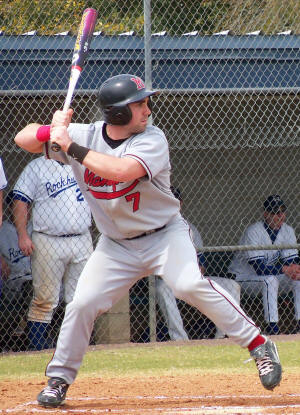 WINTER PARK, FL – After three straight wins over two days, the Mansfield University baseball team suffered its first loss of the 2010 season in a 5-0 setback to No. 5 ranked Grand Valley State Monday night in Winter Haven, FL.
Mansfield had scoring opportunities with runners reaching third base in the first, eighth and ninth innings but couldn't push a run across.
Grand Valley State's Joe Jablonski scattered three hits and struck out eight over seven innings to get the win. Jablonski retired 13 straight batters from the second through the fifth innings.
Mike Hartz went 2-3 to lead the Mansfield offense with Chris Coleman adding a double. Andy Young started and went six innings in taking the loss. Zach Ullrich fanned two of the three batters he faced in the ninth inning in relief.
It was the second nine-inning game of the day for Mansfield. The Mountaineers defeated Ohio Valley 7-3 at Lakeland earlier in the day.
Mansfield plays Rockhurst in a doubleheader Tuesday.
Grand Valley State 200 102 000 5-8-0
Mansfield 000 000 000 0-6-2
Grand Valley State (5-1): Joe Jablonski (W, 1-0), Kevin Schultz (8) and Jay Tharrett
3b – Andrew Trepel HR – Steve Anderson (1)
RBI – Anderson 2, Cody Grice, Trepel, Kyle Gendron
Mansfield (3-1): Andy Young (L, 0-1), Marc Baker (7), Shane Ryan (8), Zach Ullrich (9) and Kevin Miller, Ernie Ruch (8)
2b – Chris Coleman