RELEASE DATE: 4/23/10
FOR IMMEDIATE RELEASE: Mounties clinch PSAC playoff spot in split with East Stroudsburg – Coleman extends hitting streak to 20 games
Game One Box Score
Game Two Box Score
Watch Today's Highlights on Youtube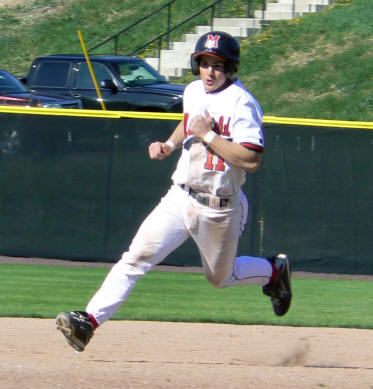 MANSFIELD – Seth Tressler doubled twice and drove in three runs while Justin Garcia went five strong innings on the mound to lead Mansfield to an 11-3 win over East Stroudsburg in the nightcap of a PSAC East doubleheader Friday afternoon at Shaute Field clinching a spot for the Mountaineers in the upcoming PSAC playoffs.
Mansfield lost the opener 9-4 but clinched a playoff spot after Millersville dropped a doubleheader to Kutztown.
East Stroudsburg snapped Mansfield's 11-game winning streak in the opener while Mansfield returned the favor snapping East Stroudsburg 11-game winning streak in the nightcap.
In the nightcap, Mansfield got two runs in the second with the first coming off an East Stroudsburg error followed by Tressler stealing home. Mansfield got three more runs in the third when Matt Hamilton led off with a double and scored on an RBI single from Kevin Miller. Miller later scored on an error. Tressler drove in the inning's third run when he doubled to the wall in right center before being thrown out at third trying to stretch it into a triple.
After East Stroudsburg scored a run in the fourth to cut the lead to 5-1, Mansfield scored six runs in the bottom half of the inning including two on a double by Tressler and two more on a single by Hamilton, to put the game out of reach.
Garcia had his second strong outing in a row scattering six hits over 5.0 innings and striking out three. He got out of a bases-loaded, no-out jam with just one run in the fourth, improving to 3-2 on the season.
Tressler went 2-2 with two doubles and three home runs to lead the Mountaineer offense while Hamilton, Kevin Miller and Dan Chevalier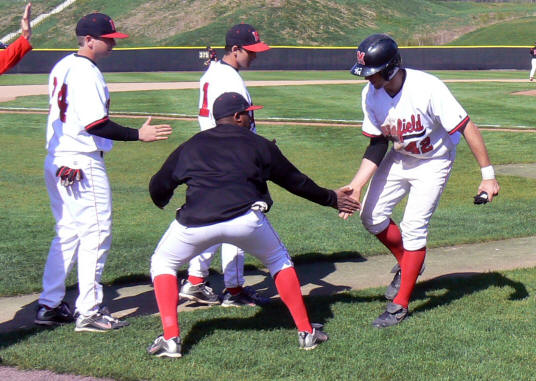 each had two hits. Chris Coleman extended his hitting-streak to 20 games with a 1-4 performance in game two.
In the opener, Mansfield never got its offense really untracked against East Stroudsburg starter Brian Earnst who threw a complete-game five hitter and struck out seven. Mansfield starter Chris Zelko gave up nine hits and was charged with seven runs in 3.2 innings. It was the shortest start of the season for Zelko who fell to 4-2 on the season.
Coleman went 2-3 for Mansfield while Hamilton hit his 14th double of the season. Jason Kelmer hit a two-run home run for East Stroudsburg in the first inning.
Kutztown and West Chester remained tied for the PSAC East lead at 16-6 with two games to play in the regular season and have clinched playoff spots from the PSAC East along with Mansfield. East Stroudsburg holds a one-game lead over Millersville going into Saturday's regular season finale.
The PSAC playoff will be held in Johnstown, PA starting on Wednesday.
GAME ONE
East Stroudsburg 220 320 0 9-13-3
Mansfield 003 001 0 4-5-1
East Stroudsburg (25-16, 10-11): Brian Ernst (W, 5-2) and Brandon O'Connor
2b – Evan Gallagher, Brian Ernst, Kenny Serfass HR – Jason Kelmer (3)
RBI – Gallagher 2, Kelmer 2, Ryan Guarino, Serfass
Mansfield (30-15, 11-10): Chris Zelko (L, 4-2), Mike Markin (4) and Glen Jenkins
2b – Matt Hamilton RBI – Hamilton, Kevin Miller, Mike Hartz
GAME TWO
East Stroudsburg 000 120 0 3-6-3
Mansfield 023 600 x 11-10-2
East Stroudsburg (25-17, 10-12): Colin Kelly (L, 3-3), Chad Jacobson (4), Kevin Steinberger (6) and Nico Delerme
RBI – Brian Ernst, Nico Delerme, Evan Cain
Mansfield (31-15, 12-10 PSAC East): Justin Garcia (w, 3-2), Bernard Johnson (6) and Glen Jenkins
2b – Seth Tressler 2, Matt Hamilton
RBI – Seth Tressler 3, Matt Hamilton 2, Kevin Miller, Chris Coleman