RELEASE DATE: 4/23/10
FOR IMMEDIATE RELEASE: PSAC Playoff berths at stake in regular-season ending Mansfield – East Stroudsburg series – two hottest teams in PSAC meet at Shaute Field on Friday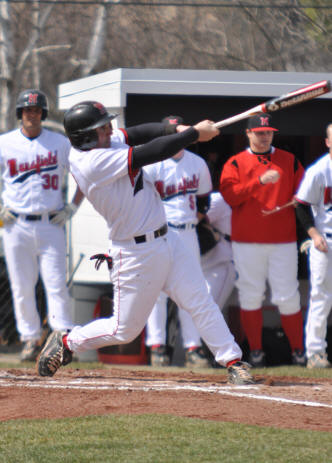 MANSFIELD – It could be déjà'-vu all over again when the Mansfield University Mountaineers and East Stroudsburg Warriors square off for a regular-season ending four-game series this Friday and Saturday that will once again decide PSAC playoff berths.
If you can't make it to the games at Shaute Field on Friday you can listen to all the action with Mr. Bob Michaels, one of the best play-by-play announcers in college baseball, on a live-stream at GoMounties.com. You can also follow live stats at GoMounties.com.
Something will have to give when the PSAC's two hottest teams – Mansfield has won its last 11 games and East Stroudsburg its last 10 – meet at Mansfield Joe Shaute Field for the first of two back-to-back doubleheaders Friday afternoon starting at 1 p.m.
The two teams will play at East Stroudsburg on Saturday.
Last year the same two clubs meet at the end of the season with a PSAC playoff berth in the balance with Mansfield earning the final playoff berth based on criteria after the two schools split the four games and tied for the final playoff spot.
After East Stroudsburg won the first game of that series opener 2-1, the teams combined for 75 runs in the next three games.
As they enter the final weekend of the regular season this year five of the seven PSAC East teams still have playoff implications, including Kutztown and West Chester which have already clinched playoff berths. That leaves Mansfield, East Stroudsburg, and Millersville fighting for the final two playoff spots from the PSAC East.
Mansfield is currently in third place with an 11-9 division record while East Stroudsburg and Millersville are tied for fourth at 9-11. Millersville is playing a four-game series against front-running Kutztown (14-6).
Both Mansfield (.342, 37 HR) and East Stroudsburg (.321, 33 HR) have good hitting clubs with power along with solid pitching staffs. The Mountaineers are led by seniors Chris Coleman (.406, 2 HR, 42 RBI) and Matt Hamilton (.383, 6 HR, 25 RBI) along with juniors Kevin Miller (.371, 3 HR, 24 RBI) and Mike Hartz (.360, 19 2B, 1 HR, 47 RBI).
Juniors Chris Zelko (4-1, 24 K, 5.36), Bryan Wilde (4-3, 23 K, 8.19), senior Justin Garcia (2-2, 22 K, 4.50) and sophomore Andy Young (4-2, 19 K, 6.17) are expected to start on the mound for the Mountaineers over the four game series with relief from senior Bernard Johnson (6-2, 20 K, 3.55).
Evan Gallagher (.403, 2 HR, 26 RBI) and Eric Boyer (.393, 4 HR, 24 RBI) are the two top hitters for East Stroudsburg while senior Christian Saveri (4-3, 53 K, 2.06) is one of the top pitchers in the PSAC this season.