RELEASE DATE: 4/12/10
FOR IMMEDIATE RELEASE: Shane Ryan throws six shutout innings to lead Mansfield to 11-0 win in nightcap of doubleheader at Clarion – Mounties pick up 20th win of the season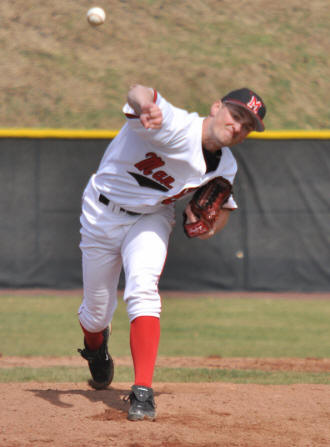 CLARION – Senior Shane Ryan threw six innings of shutout ball and fellow senior Joe Will threw a perfect seventh inning to lead Mansfield to a 11-0 win over Clarion in the nightcap of a PSAC interdivisional doubleheader Monday at Memorial Field. Clarion won the opener 5-4.
In the nightcap, Ryan scattered seven hits over six innings while striking out six and walking one to improve to 1-1 on the season. Will retired all three batters he faced in the seventh.
Mansfield gave Ryan plenty of offensive support starting with two runs in the first on RBI's by Chris Coleman and Seth Tressler. The Mountaineers added another run in the fourth on Matt Hamilton's RBI single and plated a run in the fifth off a Clarion error.
The Mountaineer put the game out of reach scoring six runs in the sixth off five hits with Mike Hartz driving in two runs and Coleman and Glen Jenkins each driving in a run. Tressler went 4-4 with a double and RBI while Hamilton and Hartz each had two hits in the game and Jon Taddeo a triple.
In the opener Mansfield got two runs in the first on RBI's by Hartz and Coleman and added two more in the fourth on a two-run double by Lance Ratchford to take a 4-1 lead. Clarion got four runs in the fifth with all four scoring with two outs.
Mansfield opened the sixth with a walk by Brian Danner who stole second but was erased on a fielder's choice. Mansfield still managed to runners on second and third with two outs but couldn't plate the tying run.
Mark White entered the game for Clarion in the top of the seventh and struck out all three batters he faced looking to end the game.
Mike Maartin started and went 4.2 innings scattering six hits with six strikeouts to suffer his first loss in three decisions this season. Marc Baker pitched no-hit ball for 1.1 innings of relief. Ratchford went 2-3 from the plate.
Mansfield will host Wilmington University in a non-conference doubleheader at Shaute Field on Wednesday starting at 1 p.m.
GAME ONE
Mansfield 200 200 0 4-6-0
Clarion 010 040 x 5-6-0
Mansfield (19-14): Mike Martin (L, 2-1), Marc Baker (5) and Glen Jenkins
2b – Lance Ratchford RBI – Ratchford 2, Mike Hartz, Chris Coleman
Clarion (5-22): Bill Ruhland, T.J. Anderson (4) (W), Mark White (7) (s) and Kevin Morgan
2b – Kevin Keebler RBI – Mark White 2, Eric Kempton, Morgan, Jordan Labue
GAME TWO
Mansfield 200 116 1 11-11-1
Clarion 000 000 0 0-7-3
Mansfield (20-14): Shane Ryan (W, 1-1), Joe Will (7) and Glen Jenkins
2b – Seth Tressler 3b – Jon Taddeo
RBI – Mike Hartz 2, Chris Coleman 2, Matt Hamilton, Kevin Miller, Tressler, Glen Jenkins
Clarion (5-23): Kevin Gnacinski (L), Joey Harrison (6), Jeremy Smith (6), Jordan Labue (7) and Chad White
2b – White, Jason Krimsky