RELEASE DATE: 3/11/10
FOR IMMEDIATE RELEASE: Mansfield sweeps Chestnut Hill to improve to 6-3 – Mounties games for Friday rained out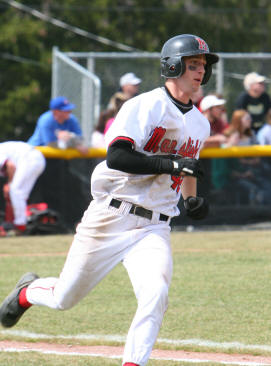 FT. PIERCE, FL – Chris Zelko threw a three-hitter in the opener and Bryan Wilde got a complete game win in a rain-shortened nightcap as Mansfield swept Chestnut Hill 9-2, 5-4 in Ft. Pierce, FL on Thursday.
In the opener, Zelko threw a gem scattering three hits and striking out three with no walks over seven innings to pick up his first win of the season.
Mansfield got four runs in the top of the first inning with two of them coming off a single from Matt Hamilton and another scoring on an RBI single by Dan Chevalier.
Chevalier was 2-3 with a double a RBI to lead the offense while Mike Hartz and Hamilton both went 2-4.
In the nightcap, a game that featured lighting delays and ended after five innings because of rain, Mansfield rallied for five runs in the third inning and held on for its sixth win in nine games in Florida.
Wilde picked up his second win of the season going the distance scattering six hits and striking out four. Dylan Woodworth was the only Mountaineer with more than one hit going 2-3 with an RBI.
Mansfield's doubleheader scheduled Friday against Minnesota-Duluth has already been cancelled because of weather conditions.
GAME ONE
Mansfield 400 005 0 9-10-4
Chestnut Hill 000 010 1 2-3-4
Mansfield (5-3): Chris Zelko (W, 1-1) and Glen Jenkins
2b - Brian Danner, Dan Lough, Dan Chevlier 3b - Kevin Miller
RBI - Matt Hamilton 2, Chris Coleman 2, Chev, Danner, Mike Hartz, Miller
Chestnut Hill: Kevin Cahill (L), Jack McGinley (6) and Bryan Henry
2b - Tim DiMonte
RBI - Alex Latchum, Eric Blood
GAME TWO
Chestnut Hill 120 01 4-6-3
Mansfield 005 00 5-7-1
Chestnut Hill: Andrew Lawrence (L), Dan Morgan (3) and Henry
2b – P.J. Kidd RBI – Kidd 2, Andrew Koziol
Mansfield (6-3): Bryan Wilde (W, 2-0) and Jenkins
2b – Chris Coleman, Jenkins 3b – Matt Hamilton
RBI – Coleman, Dan Lough, Hamilton, Dylan Woodworth, Jenkins