RELEASE DATE: 4/09/10
FOR IMMEDIATE RELEASE: Lough's homer in extra innings gives Mansfield split at Bloomsburg
Game One Box Score
Game Two Box Score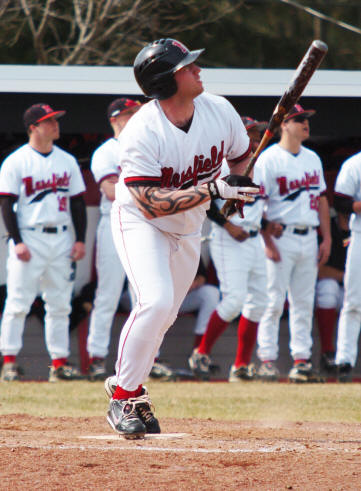 BLOOMSBURG – Dan Lough belted a two-run pinch-hit home run in the top of the eighth inning to give Mansfield a 10-8 win over Bloomsburg in the first game of a PSAC East doubleheader Friday afternoon at Danny Litwhiler Field. Bloomsburg won the nightcap 14-4.
In the opener Mansfield scored twice in the top of the first inning when Matt Hamilton led off the game with a double and scored on a single by Kevin Miller. Chris Coleman singled in Miller later in the inning.
Bloomsburg took a 3-2 lead with three unearned runs in the second inning of starter Chris Zelko before Mansfield came back with a unearned run to tie the game in the third.
The Mountaineers retook the lead with three runs in the top of the fifth including a leadoff home run by Matt Hamilton and a run scoring sac fly from Dylan Woodworth. But Bloomsburg scored five runs on five hits and two Mountaineer errors in the bottom of the inning to take a 8-6 lead.
Mansfield sent the game into extra innings by scoring twice in the top of the seventh on an RBI by Woodworth and run scoring single by pinch hitter Brian Danner.
Bernard Johnson, who replaced Zelko in the fifth giving up one hit and striking out three over 2.1 innings, struck out the first two batters in the bottom of the seventh. He hit the next two batters but retired the side on a fly ball to right to end the inning.
In the eight, Mike Hartz hit a one-out double but was still at second with two outs when Lough stepped to the plate as a pinch-hitter and blasted a shot over the fence to give Mansfield a 10-8 lead. Joel Worthington came in for Johnson in the bottom of the eighth and after walking two, retired the side to preserve the win.
Hamilton, Miller, Hartz and Coleman each had two hits for the Mountaineers while Woodworth and Lough drove in two runs each. Johnson picked up his fifth win of the season in six decisions with Worthington picking up his first save of the year.
In the nightcap Bloomsburg's Vinny Voorhees threw a complete game allowing just two earned runs in the first inning and striking out 10. Jon Taddeo went 2-3 for Mansfield with Hartz driving in two runs.
Mansfield is now 18-11 overall and 6-8 in the PSAC East. The two teams meet again Saturday for a doubleheader at Shaute Field.
GAME ONE
Mansfield 201 030 22 10-12-3
Bloomsburg 030 050 00 8-9-4
Mansfield (18-11, 6-7 PSAC East): Chris Zelko, Bernard Johnson (5) (W, 5-1), Joel Worthington (8) (S-1) and Glen Jenkins
2b – Matt Hamilton, Kevin Miller, Mike Hartz 2, Dan Chevalier HR – Hamilton (5), Dan Lough (5)
RBI – Lough 2, Dylan Woodworth 2, Hamilton, Miller, Chris Coleman, Dan Chevalier, Brian Danner
Bloomsburg (10-23, 6-11 PSAC East): Grant Kernaghan, Mitch Troy (7) (L) and Corey Eisenhart
2b – Joey Ianiero, Tony Donofry RBI – Chris Tressler 2, Eisenhart 2, Gino Wise, Devin McLaughlin
GAME TWO
Mansfield 200 000 2 4-6-3
Bloomsburg 323 060 x 14-15-1
Mansfield: (18-12, 6-8 PSAC East): Bryan Wilde (L, 3-3), Marc Baker (3), Zach Ullrich (4) and Glen Jenkins
2b – Matt Hamilton, Dan Chevalier, Ernie Ruch RBI – Mike Hartz 2
Bloomsburg (11-23, 7-11 PSAC East): Vinny Voorhees (W) and Corey Eisenhart
2b – Jerry Lloyd 2, Jarrod Kramer, Tony Donofry 3b - Donofry
RBI – Joey Ianiero 3, Kramer 3, Donofry 2, Lloyd 2, Chris Tressler, Devin McLaughin