RELEASE DATE: 3/26/10
FOR IMMEDIATE RELEASE: Mansfield remains 9th in latest NCBWA regional poll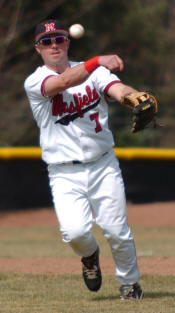 MANSFIELD -- The Mansfield University baseball team remained ninth in the National Collegiate Baseball Writers Association (NCBWA) NCAA Division II Atlantic Region poll.
Mansfield beat Millersville in three out of four games last week to improve to 9-5 overall. The Mountaineers are currently in second place in the PSAC East with a 3-1 mark.
Mansfield will host Kutztown, No. 3 in the region, in a PSAC East doubleheader at Shaute Field on Saturday. The Mountaineers are scheduled to travel to Kutztown on Sunday in a reschedule from Friday's postponed doubleheader. Sunday originally scheduled doubleheader with Slippery Rock has been moved to Monday starting at 1 p.m. at Shaute Field.
NCBWA Division II Atlantic Region Poll
1. 1. West Chester (11)
2. 2. West Virginia State
3. 3. Kutztown
4. 4. Concord
5. 5. California
6. 6. Slippery Rock
7. 7. Mercyhurst
8. 8. Seton Hill
9. 9. Mansfield
10. 10. East Stroudsburg